[
Jay could not wait for my rant, so he wrote his own. that is what is happening here.
]
Hey, does the new comic seem weird to any of you? I can't quite put my finger on it.
Is it the font? No, that's not it...
The panels are gray? Still no...
Think one of you could help me out here?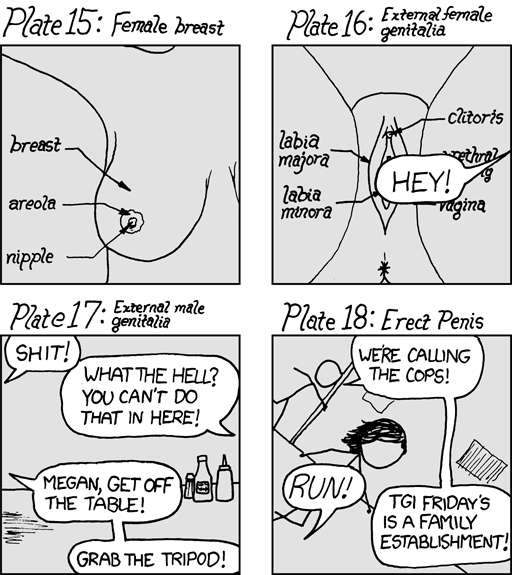 Oh right, it's the fucking
breasts and vagina.
OK then.
Obviously the breasts are in panel one. I can tell from the comments that I'm not the only one perturbed by them. I am male and straight and generally OK with breasts, but I was not expecting them, and honestly, I don't enjoy having them staring at me over my morning coffee. And they're such detailed breasts, like - almost like they don't belong to a stick figure at all...
In panel two we have the vagina! Thanks Randall, by the way, for labeling it so we know what it is. We have seen vaginas in xkcd
before
, actually, but this one is larger and harder to ignore. I guess we do have that speech bubble covering it, but you know what, it still makes me uncomfortable.
Look, I feel - I feel like for some reason I have to justify my dislike for this comic, like it makes me some fucking prude who thinks
ugh
vaginas
too
indecent
to show on the
internet
. I'm not. There's nothing wrong with nudity. If I'd seen this in Sexy Losers I wouldn't bat an eye. That's not my problem here. My problem is that this comic is drawn by
Randall fucking Munroe
, the guy who once drew
this
, and until recently this comic would have been very out of character for him. It's shocking because it's
xkcd
.
I guess I'm supposed to like, summarize this for you or something, but fuck it. You can see what's going on. And it's weird. It's really weird, and
fuck
everyone
who says it isn't. It's weird that when, for the first time in like 300 comics, Randall draws a non-stick figure, it's basically porn. It's weird that he spends enough time looking at nude photos on wikipedia to notice trends (I stole that one from the
forums
.) And is it just me or is the gray color he chose completely hideous? Like the breasts are dead. Dead breasts.
Aside from the obvious (the
breasts and vagina
- just making sure you hadn't forgotten them since I mentioned them one sentence ago), this comic sucks. It's not funny. It's not. This cheese is not burning me. It's not funny because it doesn't make sense. WHY THE FUCK are they doing this in a TGI Friday's? Are there
customers
there? Why not do it in their home? The whole situation is contrived. And speech doesn't show up in photos.
Ugh, what else.
My eyes keep returning to those fucking breasts.
Not sure why they bother me more than the vagina.
Oh yeah, there's Megan! Hello Megan! Again! I have already registered my thoughts on this subject, that Randall is fucking with us, because honestly c'mon. I know he avoids criticism but he must be aware of the jokes, right? I've seen them other places besides here.
Rape Guy
is going to have a field day with this over at xkcdcouldbebetter. Speaking of which, WAYS THIS COMIC COULD HAVE BEEN BETTER:
* He could have not drawn it.
* He could have not uploaded it.
* He could have drawn the first two panels as stick figures. It would have been funny because stick figures do not have genitals.
* He could have made the guy's dialogue less awkward in the last panel. He wouldn't say the restaurant's name, he'd say "this is a family establishment." And then Randall could have drawn a TGI Friday's sign. Picture it in your head - don't you think this version would have been funnier? And more natural?
Whatever. I don't know what the fuck went through Randall's head. "Gosh, do I
ever
have a hankering to draw some external female genitalia! No one will mind! It's not like they'll be viewing this at
work
or anything!"
You're losing it, Randall.
And to the people on the forums who were like, "you shouldn't have been slacking off at work anyway!" - you can piss off. That's a petty argument and you know it. Most offices are OK with someone taking a short break to browse the internet to look at appropriate sites. For years xkcd has been appropriate. Today it is not. It's not unreasonable that some people would be pissed about that.
Yeah, that's pretty much all I got. Sorry for stealing your thunder, Carl. I know this isn't exactly angriest rants material, but this comic is so fucked up I'm sure there are still lots of angry things for you to say.
Christ.
Jay out.