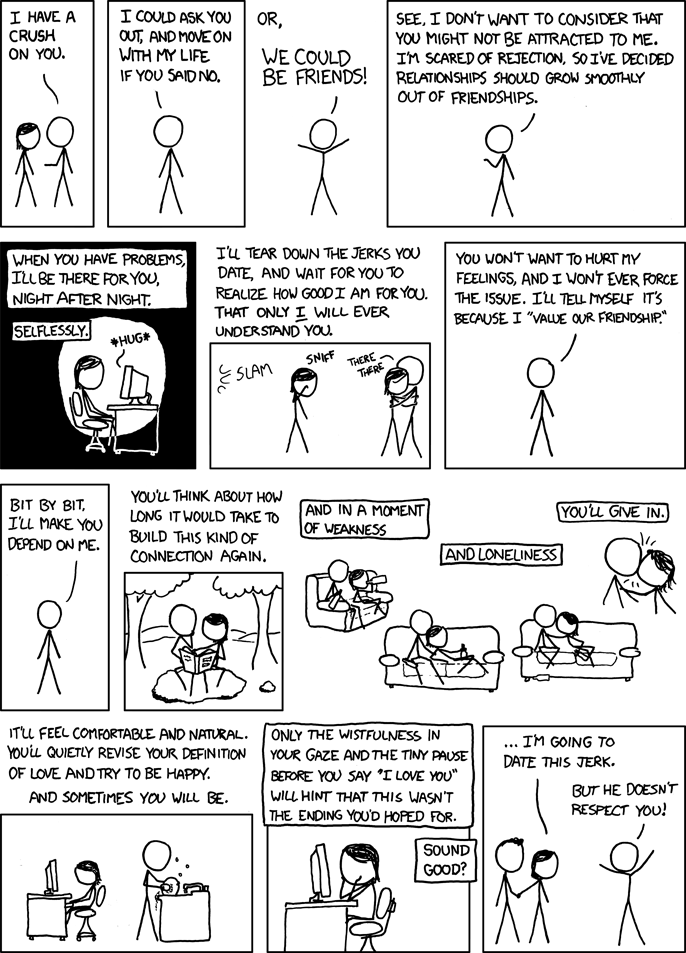 [calm before the storm]
[breathe in]
[hold it]
[breathe out]
[alright...]
Oh good god randall this is such a creepy weird comic. I might feel better about it if you didn't have so many other comics about failed relationships, but this one just seems to confirm my suspicions that you are just fucked up.
Now I know it's possible you're joking with all of this, making fun of it, etc. And maybe you tell yourself you are kidding and you are not really like this. But there's some little hints. The fact that the girl in the comic calls the guy "this jerk." I feel like if the comic were totally kidding she wouldn't call him a jerk, because she doesn't think he is. But it feels like an artist putting words in her mouth. "Oooh, look at me, I'm a stupid woman who doesn't know what's best for me, I'm going to date this jerk."
The dude starts out by talking to the girl - which means that in the world of the comic, it's an imagined conversation. He isn't
actually
going to tell her any of this. It's an imagined conversation, from the main dude's head, and how does Randall write this unless he's been there? Most of the people I've talked to - and people seem to want to talk to me about this comic way more than other ones - have been reading it as "holy shit that freaks me out" and very few enjoyed it.
I would say he's vaguely kidding. To use a wonderful phrase that you should all get to know, he is
kidding on the square
. I say, it comes off as creepy and weird. Even some kind of your-mom joke at the end would make it at the very least, not creepy.
But don't take my word for it. Let's see how the fans reacted!
This comic has generated a veritable explosion of comments from the forumites, where the comments have stretched to 512 comments on 13 pages (for reference,
Egg Drop Failure
is currently at 119 comments, and
Sleet
is at 84). There are, truth be told, a handful of comments that say "GUYS this comic is MAKING FUN OF THOSE PEOPLE not making them look good y'all are weird" but there are a shit ton more "omg this is so totally my life right now randall get out of my head." And some of these people are downright
creepy as hell.
Some favorites:
This one
, where all i can HOLY CRAP you turned to the internet for help? What the hell? And you moved to ANOTHER COUNTRY? What the hell???
Dnumde Setnad
is hopefully kidding because DO YOU KNOW HOW FUCKED UP YOU SOUND TALKING ABOUT BEING ATTRACTED TO A 14 YEAR OLD ON WORLD OF WARCRAFT???
update:
Ok, this one's a bit unfair, as upon rereading the post in light of Sean's comment below, the dude is probably her age (I assumed that that "she was in my class" was a warcraft like half-breed shaman dwarf thing, but it looks like he means like in school). Still: He describes himself as being attracted to a girl who is " 'role-play-married' to God knows who as a night elf" so he's got to earn at least a bit of an honerable mention for weirdness, no?

Somedude04
has apparently tried this in real life! 5 TIMES. holy fucking christ! i guess he wins points for perseverence and sheer CREEPYNESS
"About the strip itself, I don't see why so many people think the comic is creepy. It's about a shy guy who really wants to date this girl, but he's afraid, so he's going to try to get close to her so maybe she'll see something in him. Seems like a good strategy to me"
Yeah probably! Go for it! Not creepy at all, I totally agree.
And the winner of the Creepiest Stalker of the Creepy Stalkers Award goes to...MR.
KOKURO
! Holy crap, kokuro, you are freaking weird! Way to tell everyone on the internet about your skeezy plans.
But of course, that's just my reading. How did you fine people react?
PS creepy! creepy creepy creepy creeeeeeepy creeping sketchy creepy CREEPY!