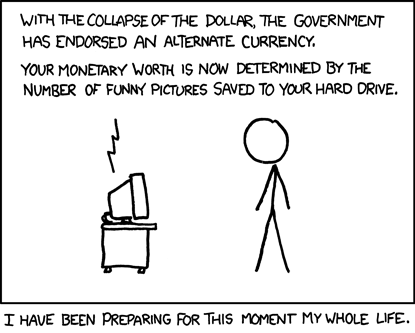 GUYS remember how Randall Munroe is not just a super-funny cartoonist but also knows everything about what is happening in the world? Probably you don't because
the time he wrote a short story about the federal reserve
was
more than two months ago!
GUYS do you remember how Randall Munroe is aware of the traditions of the internet, which include humorous pictures? Probably you don't because
the time he wrote a long comic series about it
was
more than one month ago
!
GUYS do you know how sometimes instead of writing a full fleshed out idea for a comic he just had a little idea like "what if jpgs were currency?" Probably not because
the last time he had a similarly lazy comic
was
more than one week ago!
GUYS remember the Onion book
Our Dumb Century
which had the headline, "Cambodia Switches to Skull-Based Economy"? Probably you do because Our Dumb Century is an amazing book and I trust that you've all read it.
Oh and also inflation is not actually really one of the problems with the US economy these days but whatever if Randall wants to think it is I'll be glad to buy his dollars.
Speaking of dollars, would people think I was selling out if I put up google ads on this site? I'm really just curious how much money they could make, and I would put the money back into anti-xkcd efforts (assuming I could think of any).