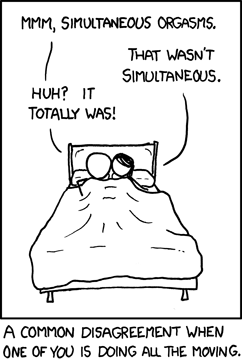 This has been an interesting comic for me to watch other people's reactions. Like many people, I did not get that it was about relativity at first (at least the forums are good for explaining jokes like this...) and of course, not getting it I thought it was incredibly stupid. But then I saw what the point was and thought "ok, that's a joke that is not going to appeal to that many people...but it's not bad."
And it's really pretty ok, once you see what's going on. But it's a pretty veiled reference. A very physics-y friend of mine just looked confused when he read it.
The thing is, I've seen a whole bunch of people laugh really hard at this, and then when I ask them what they think the joke is (i'm a pretty annoying friend) they can't really describe it. But they know it has to be funny! It's xkcd
and
there's sex! Try it on your friends and see what they say.
This is what we are up against, people: xkcd has such a reputation for Laffs And Giggles that people will laugh and think it's amazing
even if they have no clue what it's talking about
and
totally miss what the author is intending.
I thought some variation on the phrase "Come On, Randall" might be a very clever title for this post but decided against it. Didn't want it to disappear entirely though, so here it is.
On a related note, the super intense arguing going on for
comic 513
has somewhat overwhelmed me, and I do apologize again for not being able to respond to all the comments. It happens to be a busy week. In any case, I decided that I could use a short break from the blogging, for mostly creative artistic (ha!) reasons so starting next Monday (probably) we are going to have a guest contributor. It's...frequent commentor Rob! woo hoo! So you'll have to start paying attention to that line on the bottom of the posts where it says who wrote it. Or I could tell him to publish in a different font. Or something. Whatever. The plan is for this to last one or two weeks, and I will still be around commenting and maybe posting if needed.
Let's give a BIG XKCDSUCKS WELCOME to rob, everyone.