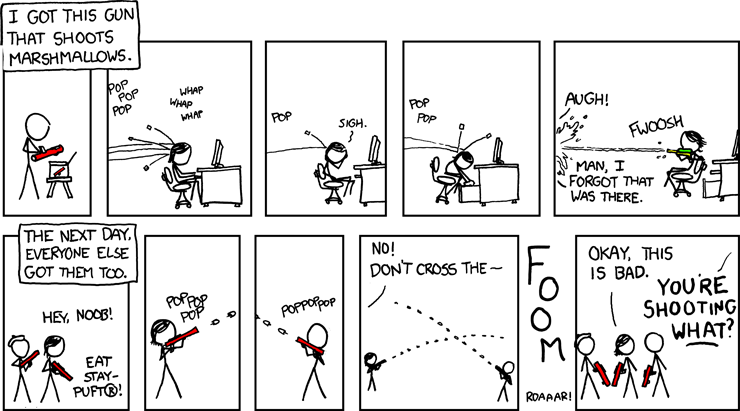 Hello everyone! I am Rob, your friendly neighborhood guest blogger. I will do my level best to be at least as awesome as Carl. I have never failed at anything I have ever done before, so I am not worried. Today, in case today's strip went by too fast, I am giving you all of my cinematographic skills to present a FRAME BY FRAME ANALYSIS of the comic!

FRAME THE FIRST.
The premise of the comic revealed! Our hero has acquired a gun that shoots marshmallows. I wonder what wacky high jinks will ensue? (Here is a hint: it involves shooting marshmallows.)

FRAME THE SECOND.
Apparently I called it.

FRAME THE THIRD.
So apparently our intrepid hero really likes shooting at this girl! But she is frustrated. Is she doing important work? Laughing at the absurdity of our hero?

FRAME THE FOURTH.
OH SHE IS GETTING SOMETHING OH MY GOD WHAT IS IT

FRAME THE FIFTH.
A supersoaker! In case you were not aware, Randall is fond of supersoakers. He keeps one in the desk. And in case you did not catch the reference, our intrepid hero informs us he forgot it was there! Because it is always there. It is important that you know he is making a reference to an older comic that he made. Guys, Randall has so much in common with you,

he also reads XKCD.



FRAME THE SIXTH.
Now everyone has one! Hurray etc. Also, I am pretty sure beret guy must be one of Randall's friends. He is making too many appearances otherwise.

FRAMES THE SEVENTH AND EIGHTH.
Look, it's one of those "oh man is it two frames or one frame!?" effects! They are shooting streams of marshmallow at each other!

FRAME THE NINTH.
Ha ha ha he is talking about Ghostbusters! I, like many other people, watched those movies as a child! And do you remember the Staypuft Marshmallow man? He was a monster that appeared at the end, when they crossed the streams! And they are using marshmallows so it is A DOUBLE REFERENCE.

FRAME THE NINE POINT FIFTH.
This is the sound of something very big appearing.

FRAME THE TENTH.
Aaaaand the joke got away from me.
This might have had the potential for a good joke, maybe--but it was very badly executed, if so. It went from 'look at the zany fun!' to 'ghostbusters reference!' to 'now there is a big monster off screen! Marshmallows are magical!' Ultimately I was mostly just vaguely confused. Maybe I just lack basic literacy!
But I feel that even the basic idea of a marshmallow gun is kind of a bad one. Anyway, there are
much cooler things
to do with marshmallows.