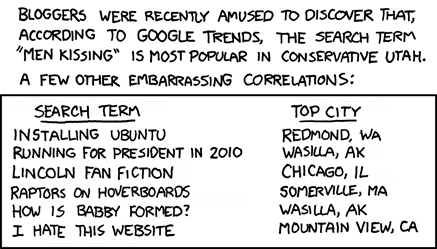 This one just doesn't do it for me. I doubt they are real figures, and even if they are, it just makes me say "so what?" And seriously, Randall? This one isn't even a chart comic. You didn't even draw anything. At all. You just put words out there. That is what blogs are for. Comics ought to at least be visual.
There's just nothing here for me to talk about. It isn't funny. And I am pretty sure none of that information is real. (It is not available on
Google Zeitgeist.
Google doesn't usually release this sort of data.) And the Wasilla jokes? What happened to being apolitical, Randall?
If it's fictional it's a bad joke. If it's real he didn't do anything interesting. LAME. ALL. ROUND.
Anyway, thank you all for reading. Thomas will be taking over next week. I am excited! You should all be, too. It has been a pleasure, and all of you are awesome, generally speaking. But while Rob season is over, I will always live on in your hearts and minds. And in my blog, which I won't link to because that would just be shameless. But every time you are
making out in public places
, think of me.
Hugs and kisses!