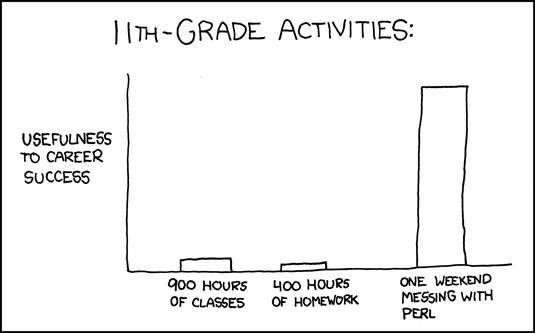 I am making an official declaration: this individual comic is, with no exceptions, the worst comic I have EVER SEEN IN MY LIFE. This includes print comics such as Garfield and the really bad political cartoons that crop up during election season. This is an abysmal piece of work and Randall ought to be ashamed of himself. ASHAMED. It is entirely indefensible. It is not funny, and it is far from insightful.
All right, stop me if you heard this one before. So an intelligent kid goes to high school and finds himself bored by all of his classes, assumes they are a waste of time because he is unchallenged, and in his free time adopts some other hobby that he finds to be challenging and rewarding, and he puts a lot more value on that activity and associates more positive memories with it, so he assumes it is a lot more important to the rest of his life. Then his parents take him to visit a college campus and when he meets with the admissions counselor he says "That's no admissions counselor, THAT'S MY WIFE."
Anyone?
So, it's a chart comic. Minus points for that. And it's not funny. I'm not even sure if it's trying to be funny, but if it's not it is even worse because it is also not insightful. Maybe he is going for (as the alt text implies) "It's amazing how much small decisions can totally change your life." And yes, true. I could tell you about countless tiny things that happened to me that have completely changed the course of my life. But this is (a) not a very insightful way of saying it, and (b) implying that these are the only decisions that actually matter.
Or perhaps he's making a comment about the education system. "Man, you don't learn anything important in school it's not like I'll be using any of this in my job, you don't know nothing this sucks" etc. This is not clever or insightful or useful; this is something high school students say when they don't want to do their work. Especially the intelligent ones who are doing other hobbies that they have decided they want to get paid for, like playing with Perl.
And now we move on to the feature known as "Rob Reads The Forums, So You Don't Have To." Not only is everyone agreeing with it "oh man that is so true," we have what counts as a
Get Out Of My Head, Randall
, and then an
Obvious Troll
who is my new personal hero (if you are this person PLEASE COMMENT I LOVE YOU). Mostly everyone seems to think that this comic is their new personal Jesus.
god why did i look at the forums i think it may have broken me YOU ALL BETTER APPRECIATE IT
Love,
Rob
UPDATE: I have replaced the link to the actual comic with a link to Carl's parody on his post. Which I am glad happened, because THERE IS NOT ENOUGH BAD STUFF TO WRITE ABOUT THIS COMIC. TONGUE NOR HEART CANNOT CONCEIVE NOR NAME THEE.