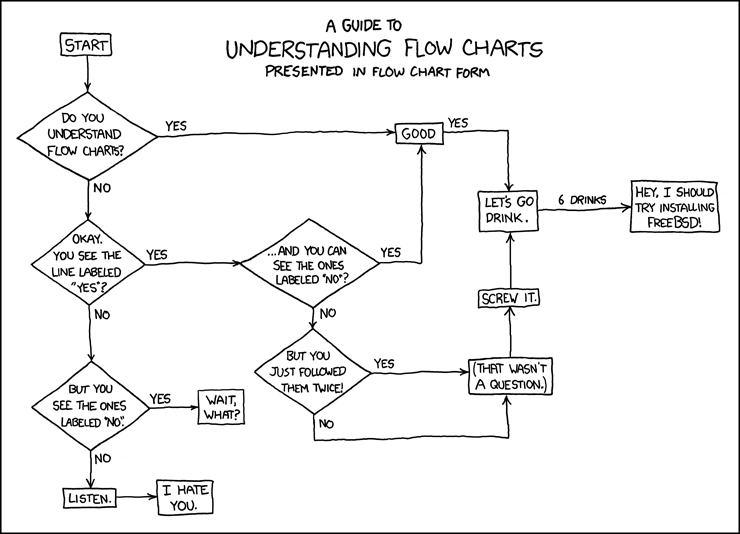 I should probably start by saying I was this close to liking this one. This is not a bad concept. I mean, it is not going to win any prizes for comedy, but it's a flowchart to explain flowcharts. That's amusing, right? Ha ha? So it has a decent structure. It starts as a flowchart, for one! While this might make it one of his many diagram comics at least it's not, like, "My hobby: making flowcharts to explain flowcharts." Bonus points for actually telling a joke!
Then he gets to the part at the end of a joke, it is the part which is supposed to be funny, what is it called, oh right THE PUNCHLINE. Right, he gets to the punchline and, uh. It is a random joke about... getting drunk and installing FreeBSD. FreeBSD is
not a flowchart
. It is an operating system.
So the flowchart joke never really happens. This is something you scribble on your napkin at the diner at 3 am, a half-formed idea in your head, its humor derived mostly from the context of the conversation, ultimately lost and discarded as the relic of a moment.
Am I alone in this one? I feel like jokes should have punchlines which are related to the premise of the joke. Unless it is a shaggy dog story, or The Aristocrats! etc, which is subverting the standard format of a joke. I mean, you could probably make a funny comic about recursive flowcharts. You might even be able to make one about 'woo I am drunk let's install FreeBSD' but I doubt it.
But you can't just say "uh, man, FreeBSD is a six drink minimum and, uh. Flowcharts? Yeah, man."
CARL SAYS: "Also, you have to assume it's going to lose some points for saying 'presented in flow chart form' at the top there when it's pretty danged obvious from the, you know, flow chart sitting below it that there will, in fact, be flow charts involved. This comic to me felt like he started with a good idea and then gave up trying to make it really great. My mind keeps going back to 'Screw it' --> 'let's go drink' and imagining Randall saying that while drawing the last few panels. Also, Rob, hope you don't mind me invading your post like this. I didn't change anything, just added stuff. PS you are doing a heckuva job so far."