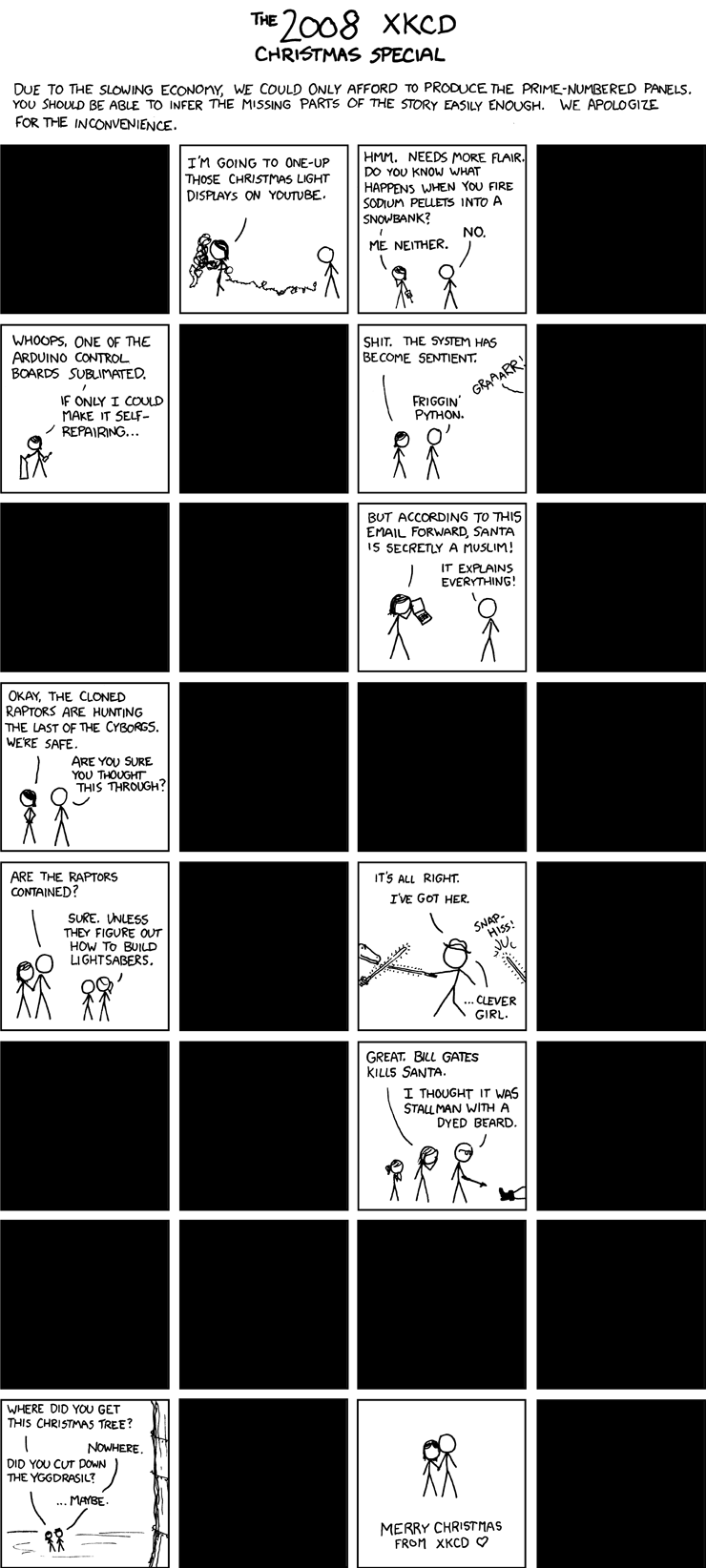 First off: Merry Christmas! I hope you are all enjoying yourselves, and not drinking yourselves into oblivion because this comic has brought you more despair than you can handle this holiday season. As my Christmas gift to you, I present you: It's A Wonderful Webcomic, a short story by yours truly.
Randall Munroe was a webcomic, authoring a niche comic that was increasingly less funny. Desperately, he tried to insert geeky references into his works, trying to service as many fans as possible in attempt to save his comic from the dark oblivion. Then, disaster struck. Christmas approached. He was unable to decide on a single internet-based joke for Christmas, and he didn't have time for a whole Christmas story!
Even if he did, his ideas had grown too disparate, too crazy to connect in a coherent plot. He needed a plan. So, late at night, Randall Munroe went out into the lonely bars of Cambridge, drank, and doodled on napkins. He was getting nowhere. He was doomed to write a comic that did not inspire vapid comments on his forums.
His pen broke. Ink started filling one of the panels--one where he had drawn the waitress telling him how she wanted to go ice skating on the Charles river. The resulting comic made no sense--and it was perfect. He immediately thought of a suitably nerdy pattern with which to black out the panels. He told the waitress he loved her, and ran home to write his Christmas special. He could make 12 panels look like 32! He could make the story completely nonsensical, just nerd reference after nerd reference, and everyone would think that was part of the genius!
It was the best Christmas ever. THE END. Happy holidays, loyal fans.
UPDATE: I am going to just make a list of better Christmas comics than this one. Feel free to suggest your own and I will add them, unless they suck, in which case I will cry.

COMIC THE FIRST: A Softer World - Oh, A Softer World. I love you.
COMIC THE SECOND: Cat and Girl - A++ would buy again
COMIC THE THIRD: Kate Beaton - As of this writing, the most recent one. Scroll down until there is Santa.
COMIC THE FOURTH: Nedroid

UPDATE AGAIN, INDEPENDENT OF THE FIRST UPDATE: ugh I forgot to complain. Randall. It is not 'the yggdrasil'. It is Yggdrasil. Just Yggdrasil. You are DOING IT WRONG.

STILL FURTHER UPDATE, RELATED TO THE SECOND UPDATE BECAUSE THAT STILL BOTHERS ME: Yggdrasil means "Ygg's Horse." Ygg means Odin. The Odin's Horse makes no sense. RANDALL FAIL.