SO in between all the madness about the
xkcd book
and the
xkcdsucks book
, I noticed that there are a whole bunch of new things in the
xkcd store
! LET'S TAKE A LOOK.
(
before we get started, note that I have already commented on the xkcd tie and the linux shirt
)
Let's start with shirts, and go top to bottom:
#1. Mr. Hat Polo Shirt. Here is what it looks like: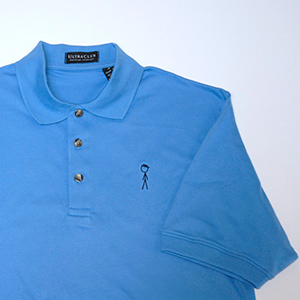 OK, basically your standard polo shirt, with the standard design in the left breast pocket area, except that it's Mr. Hat instead of like an alligator or whatever. That strikes me as a little weird, but I guess some people just love Mr. Hat. Let's take a close up look at the design: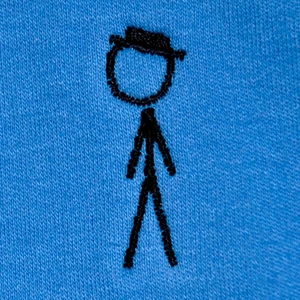 Man, when you see it like that it seems kind of pathetic to pay $48 for this, no? I mean I know polo shirts are a little expensive but given that the only added value this one has is like a few dozen stitches that basically look like someone with a not-so-steady hand used a marker to draw a stick figure on your shirt. And given that polo shirts are usually worn in slightly more formal situations, isn't a crappy picture of a stick figure the
last
thing you would want in one of those situations? Especially because basically no one will recognize who he is. So wouldn't it be better to just buy a regular polo shirt, find a marker, and write "I READ COMICS" on the shirt? Yes. Yes it would.
Moving on-
#2. "Woodpecker"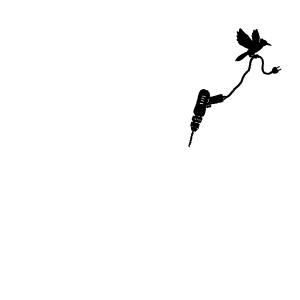 This one is really quite puzzling. Like the Mr. Hat polo, this one features a design only in the top left quadrant of the shirt, and it is also mysteriously poorly done - look especially at the choppiness of the power cord itself. Do these shirts look as crappy in real life as they do on screen? Why would anyone
want
a product so badly made?
But this is an even more obscure shirt than the Mr. Hat one - because it references only a single (highly forgettable)
comic
. Given that the bird just looks like, well, an ordinary, non-woodpecking bird, I doubt anyone without knowledge of that particular xkcd will have any clue what the hell is happening on that shirt (how often will a wearer have to say something like "no no no, it's a
woodpecker,
get it? And it has a drill? So it can use the drill instead of its nose? GET IT? ah fuck it, you just don't get it.").
Actually, I hope to run into someone wearing this shirt just to make them say that.
MOVING RIGHT ALONG.
#3 Tech Support Flow Chart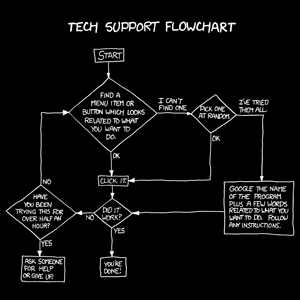 This is just the chart from
this comic
, though it has helpfully had most of the words that gave it context removed. Actually, I don't think this one is half bad. I only wonder how large it is printed - how close will you have to be to someone's chest to read it? And how awkward will that be?
OH GOD I JUST HAD A HORRIBLE THOUGHT.
maybe randall is secretly putting so much text on a shirt in order to encourage people to stare at each other awkwardly, from really close distances, so that Randall himself can do this without being mocked.
oh god oh god oh god i figured it out.
#4. Correlation Shirt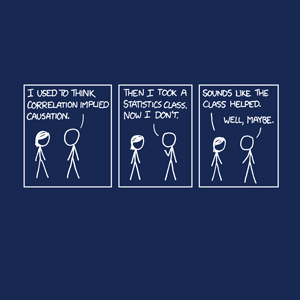 This shirt is just a
comic
slapped on fabric. A comic which I was pretty ambivalent about when it came out, but I think as a shirt it is even worse. Shirts should be
simple.
They have a a slogan, perhaps, but not a story (and this comic is a story, however simple). Glance through the
topatoco shirts
and see what I mean. (though
some
shirts deliberately subvert this....) Somehow, this concept just strikes me as very strange to put on a shirt. Not to mention lazy.
On another note, I hate how Randall feels like he has to include a stupid joke in each item description. None of them are funny, all of them feel forced. This shirt gets: "It looks good on you with certainty p>0.95 (although don't push your luck by asking for certainty to a third standard deviation)." How dumb is that? Actually, it gets better - he's
wrong.
Certainty isn't measured in standard deviations, so his parenthetical command is stupid. It should be "a third degree of confidence" because that is what p is a measure of. If he wanted a Standard Deviation line it would be like, "this shirt will look good on the median 95% of the population (but don't push your luck by asking for it to look good on a third SD of the population)" or something to that effect.
OH GOD ARE THERE STILL
MORE?


#5. Shark.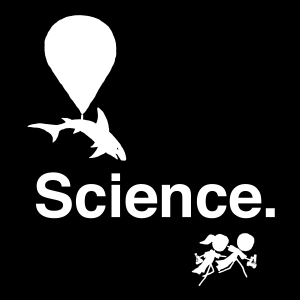 This one pisses me off too, for the same reason the Mr. Hat polo shirt and the Woodpecker shirt piss me off. No one will know what the fuck this means, unless they remember the
xkcd comic
it is from. And I bet you even a lot of xkcd readers will not remember it. Try it though - e-mail this image, free from any identifying data, to a friend of yours who reads xkcd. See if they get what it is.
I guess the idea is that if you like science, you are supposed to wear this shirt to show that science is cool. In that sense, it's just like a black and white, confusing, strange, esoteric version of "Science: It Works, Bitches." We know you like science, we like it too. That's part of why we're here. But we don't need another shirt about it. You already have a perfectly decent one!
OK FINALLY I AM DONE.
oh fuck no i am not.
real fast: Mousepad: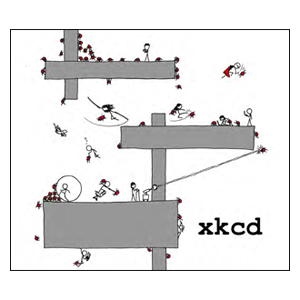 I actually kind of like this. Apparently it's the back of the xkcd book, too. It's a wacky design, it clearly took more effort than all the new shirts put together, and it has a crazy energy about it, a sort of Rube-Golberg-eque quality that fits what xkcd once was. So I will stop this
crazy long
review of new products on that high note.
god that was too much writing.