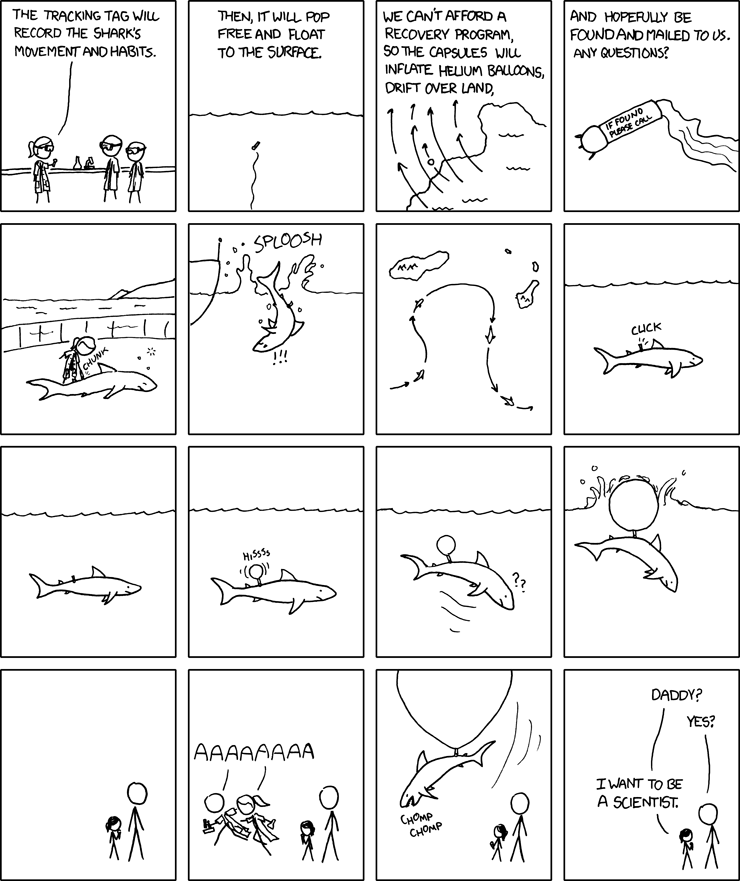 Dear me. This is another example of Randall apparently thinking he can write a webcomic despite having
no clue what he is doing.
He gives us a very, very elaborate and long set up for something fairly disappointing.
Was I the only one who thought of
Land Shark
?
Ok so first off, he has to explain his complicated shark tracking thing. Is this actually how people track sharks? I don't mean the tagging them part - that makes sense. I mean the "we can't afford the second part of this research, so we're going to hope that our capsules don't land in the oh, I don't know, 90% of the world that no one inhabits, and then kind people will mail our data back to us, and nothing can possibly go wrong!" part. They should just have the GPS data, which has to come from a satellite, find some other satellite to send its data to, so you don't have to recover the tag itself. BUT NO MATTER.
The point is that the system is contrived to set up the WACKY situation where a shark has a balloon attached to him and he floats away! Who knows
where
he got that wacky idea?! I don't!
I for one read the first two rows and thought "oh god, I bet this ends with a flying shark..." but then again, I am very intelligent, so perhaps other people did not find it so predictable.
Points to whoever said that the "beakers 'n' flasks" image may represent chemists but it is a dumb thing for zoologists to have.
Ok so the main problem with this comic - the reason I said he doesn't know what he's doing - is that his punchline sucks. If you are going to work so hard to make a situation where we can (sort of) accept a flying shark, you need to do better than "I want to be a scientist [BECAUSE THEY GET TO MAKE FLYING SHARKS]" . how about these-
"Dad, why do you have to keep bringing me along to your
boring old job
?"
"And
that,
my dear, is what will happen if you don't eat your broccoli."
"I hope that was God's way of punishing those Creation Scientists."
See? not hard.
Are we really approaching 600 comics? fuck.