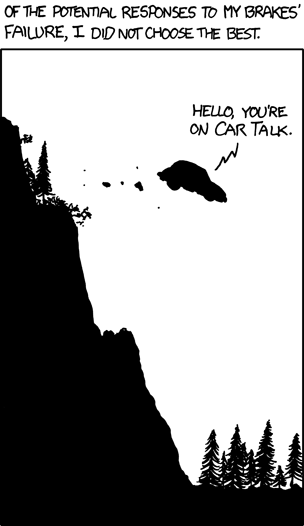 Oh, Randall, you tricky devil. You did that on purpose. This is my last guest post, and I
so
wanted to go out with a bang, but... I just can't find anything to criticize here. I liked this comic. Admittedly, it's another
reference
, which I believe I've bitched about before, but there's an actual joke and it works even if you've never heard of Car Talk.
I really don't have much to say about this, so I'm going to write briefly about the forum thread instead. One thing jumped out at me as I read it, and
suso
, I think you have to explain. suso, meet everybody. Everybody, suso.
suso has this to say about the comic:
"Haha! This happened to me once. Randall get out of my head."
We've talked about the inanity of "get out of my head Randall" before, but this might take the cake. Not to pick on you, suso, but honestly - what? This has
happened to you
before? Yeah man, I
know
, don't you just
hate it
when you drive your car off a cliff?
In other news, apparently the math in the alt text is wrong. It would actually take much less than 6.5 seconds for him to fall to the bottom, and this sort of inaccuracy will just not
do
. The forumites have been
busy
correcting
this error.
And that's really all I've got. Carl should be returning in time to write about the comic, and as as much fun as we've had in his absence, I'm sure we're all glad to have him back. Carl, I pass the torch to you.
---
Update
: OK guys, we have some controversy in the comments. I want this post to be longer, so I'm going to write about both of them.
Regarding suso: There are a number of people, Carl among them, who believe he was being sarcastic. Look, obviously, that's a possibility, even a probability, I just didn't want mention it because it's
boring
. I do maintain that you can't assume someone's intelligence on the internet, but I am about 90% joking here. I want to believe.
Regarding Car Talk: There are a few, not a lot, but a few people who didn't get the reference and so didn't find the comic funny. This befuddles me, because despite living in America,
I didn't get the reference either
. I made the connection in my head, "car trouble → 'Car Talk' → hah, he is calling a radio show instead of attending to the immediate problem! Randall, you card." The joke didn't depend on the reference - I would have laughed even if the name of the show had been
made up
. Can one of you who didn't get the comic explain this to me?