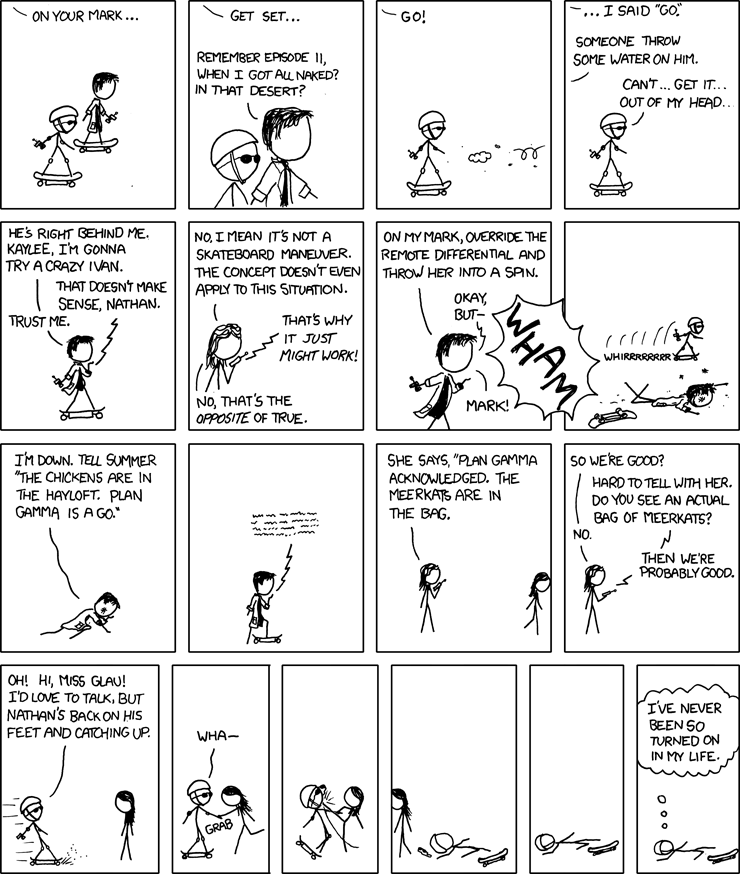 Okay guys, there is one thing in particular I want to talk about here, but before we get to that I have a comic to summarize. Away we go:
In panel one, we see the skateboarders standing next to each other. This disappointed me, as we last saw Randall whizzing off into the vast white emptiness, and I had my hopes up that he would get lost out there and die. Alas, that was just a gag, and this mediocre story continues as before.
In panel two, Nathan Fillion is a bad sport and cunningly tricks Randall into picturing him naked. He has a penis and Randall has a penis, and this makes Randall hideously uncomfortable, enough to freeze him solid apparently. I don't know about you, but I am male and when I happen to think of other guys naked, it does not render me paralyzed with disgust. It probably means I'm gay, but whatever.
Panels everything else are just too boring for me to summarize. We finally get to the race, and it is maybe the least exciting race ever, since there's
still
no scenery. Half of the time we don't even get those wavy lines to indicate movement. We have more of Nathan's patented brand of wackiness, and it hasn't gotten any funnier since comic two when it appeared. Less so, actually. Also, thanks to the lack of a background, there's no perspective in panel eight and it looks like a miniature Randall is flying above Nathan's head.
In the last row, we have the punchline, and this is what I want to draw attention to, because as many of you noticed, I
totally fucking called it.
Yesterday, I wrote this:
'I was really hoping she [Summer Glau] would beat up someone, because that's what she does in the show, and then I could make a joke like, "yes Randall, you would love to get beat up by Summer Glau, wouldn't you."'
And today we have this:
Eerily similar,
I know.
The way I see it, there are two possible explanations for this. Either Randall's comics are obvious and predictable, or I am psychic and am intercepting his thoughts from 500 miles away. I suspect the former, but either way, I win.
On a final note, I am
so
glad that Randall referred to her as "Miss Glau" and not Summer. That is what he would call her in real life, and there is a limit to how much fakery I can take.