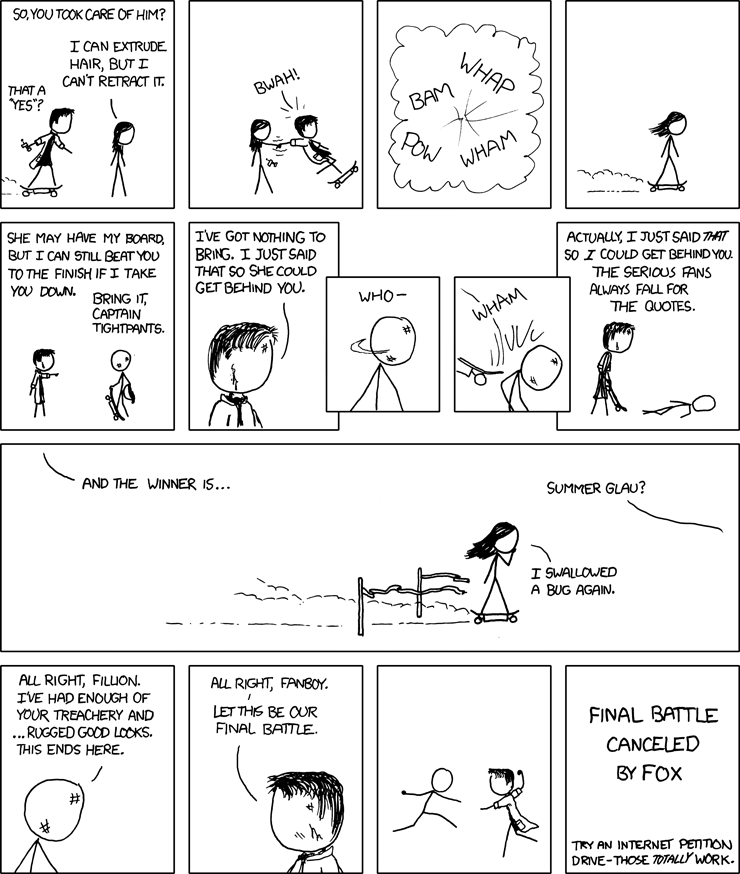 OK. OK Randall, I admit it, you got me. I did not see that coming, although I should have, and it almost made me laugh. It's an alright punchline, though that kind of anticlimax is hardly new in the field of humor. I think Randall's kind of blown his credibility by bitching about Firefly being cancelled
so many times
before. It makes it seem kind of petty - like, we get it already.
The rest of the comic was I don't care. In a crazy plot twist, Summer beats up Nathan, and I don't care. In a crazier plot twist, Nathan beats up Randall, and I don't care. We have some homoeroticism in the last row - as people pointed out in the comments, apparently Randall was not horrorstruck in the last comic, but was instead consumed by lust. Then it's over, and
there
was
much
rejoicing
amongst
the
f
a
n
s
.
Honestly, I wouldn't have predicted that this would be the week that would turn people against xkcd - I was expecting them to eat this up, the way they did with leet and secretary. I'm so proud of them.
There's really not a lot of material here to work with, but I have a few stray thoughts. In no particular order:
1. The second sentence in the last panel completely ruins the flow of the joke. Randall should have made it the alt text, and chucked the real alt text in the trash where it belongs.
2. There are already several joke petitions for Fox to 'uncancel' the fight. I disapprove.
3. The comic I just read cannot be described by any combination of the following words: epic, awesome, win, or sauce.
Overall, this entire story arc left me with a feeling of "whatever." I wouldn't even call it
bad
, not in the sense I usually mean by the word. It was just dull, which is worse. I've written five posts now, and I've tried to make them all interesting and funny, but I'm not a good judge of my own writing, so I don't know if they came out that way. Thing is, though, they were
hard
to write - much harder than I expected. And it wasn't the act of writing itself, it was summoning the energy to
care
. With bad things, you can at least point and laugh and hate at them, and here I struggled to do even that.
What Randall really needs is an editor. Someone merciless, someone to tell him, "
parentheses don't fucking go there
." Or, "
everything after panel three is worthless
." Someone to tell him that
making five comics about Firefly
is a
bad idea
.
I think Randall has it in him to write a decent comic. He was funny once, he's just become self-indulgent as hell (and I'd bet the constant love from his fans has a little something to do with that.) Another person on board might curtail that. He also needs to put a six-month ban on himself from making subculture references so he can learn to tell jokes again.