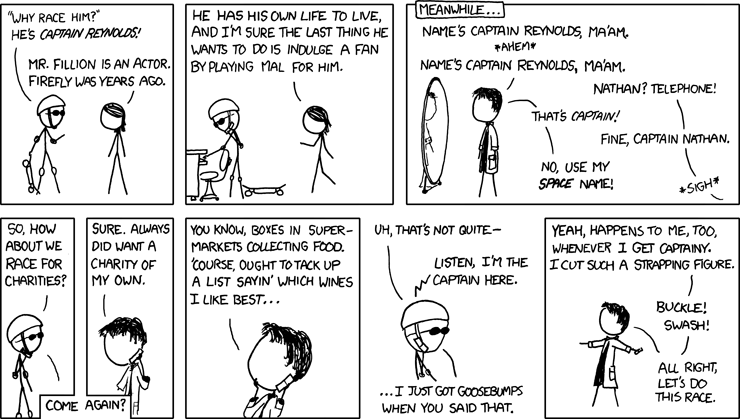 My initial reaction on reading this was
, it's

not as bad as it could have been
.
I was expecting something like the
leet series
, which I maintain is the worst thing Randall has ever written. This comic is not as bad as that, but it is not good.
First off,
thank you
Mrs. Stick Lady for expressing exactly what I was thinking in the first two panels. I wrote about this before, so all I'm going to say is that yes, Firefly
was
years ago, and you should no longer be making jokes about it. You are a remarkably astute observer.
In the third panel, we get the first joke of the story arc. Unfortunately, it's not a very good joke, "celebrities take themselves too seriously, haha," and we've all seen it before. In such exotic places as xkcd, for example. See Richard M. Stallman in the
leet series
, Ron Paul in the
secretary series
, and Cory Doctorow in the
leet
and
secretary
series. Randall does this pretty much any time he uses a celebrity.
I'll admit I'm distracted by the fourth panel. Randall apparently ran out of space while drawing it, and instead of redoing it decided to stick the dialogue outside the frame. Unfortunately, it seems to be encroaching on Nathan Fillion's personal space, and it looks incredibly awkward, like they're both saying "come again?" simultaneously.
This comic is basically fan fiction, and that it's about actual celebrities instead of Harry Potter doesn't change that. I think fan fiction is pretty icky just on principal, but what pisses me off is that I know a pretty sizeable portion of xkcd's audience would claim to
hate
fan fiction in all its forms. And yet here they are, reading it without even knowing.
Why does Randall do this? I could understand it if he wrote an
actual
fan fiction, because Firefly ended pretty quick, and you know 14 episodes could
never
be enough. And I could understand it if he was writing this about
Summer Glau
(who I fully expect to make an appearance, by the way), because Randall has one hell of a crush on her. But it's about Nathan Fillion and his skateboard, and it's not as if either of those things are ripe with jokes, because to date we have not had an actual
punchline
.
Long-form storylines seem difficult for any webcomic writer to pull off. Even the Penny Arcade guys have trouble with them, and they're a notch better than Randall, or three. I don't know why he feels the need to insert celebrities into all of his stories, but he's not doing himself any favors.