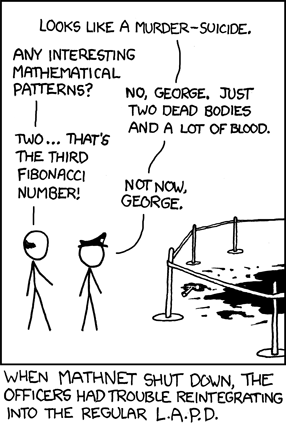 Oh man, here I am with another late update! keepin' it professional, here at xkcdsucks.
I'll be nice today and say that this comic has some good parts to it. I can't quite describe it, but it is related to the desperate-looking-for-patterns that is so endemic of sciencey TV dramas, which are certainly worth parodying.
The problem I think is that Mathnet (not something I was familiar with beforehand, I will admit) is as far as I can see
already
a parody. So the xkcd is just taking something funny and....making more jokes off it. very much like the critique of
that Princess Bride comic
a few months back: you are going to have to do more than just jump on the back of another person's humor vehicle.
Is there any reason they need that caption at all? It's funnier without it - a little more mysterious (when
is
the right time for George's useful pattern finding skillz?) and it just sort of flops on the end there. Better to end where the joke is. Perhaps if the caption had been on top, so we still end with the "This is not possibly helpful" concept it would work better at the very end.
--------
Have I already said that Abstruse Goose is one of the worst websites on the planet? It is. That is all I am going to say for a long time about that horrible comic.
--------
Guys do you remember how Randy is having an
actual printed book
of his comics made up to be sold for money? I am looking for sources to try to get me a review copy. I promise to treat it fairly (and since it will likely have a lot of old comics, I will likely have a lot of nice things to say) and link to any sort of website that may be selling it. If you have any helpful connections to make this happen,
send me a missive
. Let's make this happen, guys.