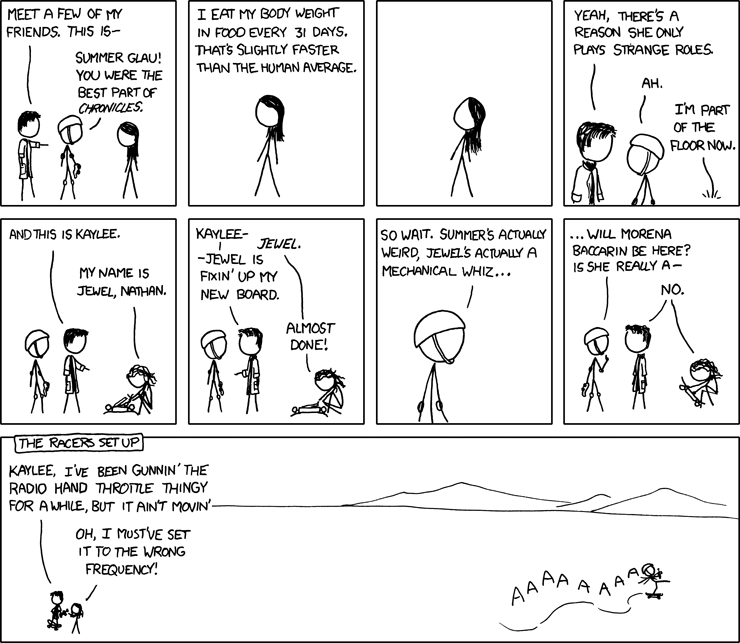 Well, we have the appearance of Summer Glau. I totally called it, even though it's what we were all expecting. I was really hoping she would beat up someone, because that's what she does in the show, and then I could make a joke like, "yes Randall, you
would
love to get beat up by Summer Glau, wouldn't you." But trust me, it's better this way.
The first two rows are just a build up to a joke about Morena Baccarin, who played a prostitute on the show. Randall is wondering if she is one in real life, because he would like to engage with her in hot Firefly sex. I guess? I did not understand this joke until I looked it up on Wikipedia, and I strongly suspect it isn't funny, but maybe it would have been if I'd gotten it. I'm going to pretend. Please don't take this from me.
In the last panel we have another joke. It would have been okay, if Randall had spent some time building up to it, instead of the prostitute one. As it is, it comes out of nowhere -
that's right, they're having a race!
So my reaction was "huh."
I'm a bit baffled by the geography here. I'm not sure what's up with the mountains in the background. At least I think they're mountains, though part of them appears to terminate above the ground. The characters all appear to be standing on some sort of hellish, featureless wasteland, like the comic takes place in limbo or something. Maybe the cast of Firefly lives in the desert? But then at least there'd be plants.
I think I'd be less annoyed by this comic if I didn't feel like Randall was using it to live out one of his personal fantasies. He gets to hang out with all his favorite actors and they
accept him as one of their own!
I mean, it's fine to have heroes and dream about meeting them, I do that too, but you are posting it to the internet for millions to see. Get ahold of yourself, Randall.
This comic seems to be generating a surprising amount of hate on the forums.
Durandal
writes, "I don't really see any humor at all."
Akbar
writes that "xkcd has officially jumped the shark", and Kuznetsov is
just waiting for the story arc to end.
This is encouraging, as my impression is Randall was expecting this to be a real crowd-pleaser and apparently it... isn't. What's that you say, guys? Recognition doesn't equal humor? Say it ain't so!