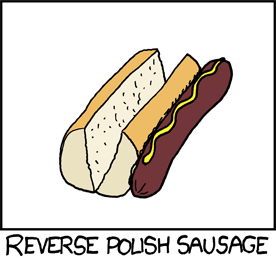 Are we all ready and wearing our
xkcd polo shirts
? EXCELLENT. let us begin.
Today was one of those rare days when I just did not get it. My nerdiness failed me. Luckily, I know I am not alone. The
first 7 (!) posts on the forum
were all from confused people who wanted to simply tell the world, "I don't know what is happening in this comic." and I got more IMs than usual from people asking me why this comic was supposed to be funny. [PS - new favorite forumite:
Brad
.]
To recap what I have learned since then, the joke is based off of what is called "Reverse Polish Notation" where the operation symbol in an equation is placed after the operands which it affects. So, according to wikipedia, 2 + 3 = 5 -> 2 3 + = 5. Or something like that.
Not understanding the joke upon first reading the comic puts me at a strong disadvantage in terms of fully appreciating it, so I will not try to make a judgment on it. OK that's kind of lie: I'll say this - it looks like just kind of a dumb visual pun based on some obscure page he found while getting lost in wikipedia. Not
bad,
but just kind of simple and dumb.
BUT. as I said, I am not going to be able to fully appreciate this, so I will leave it to those who did get the joke to tell us what they think.
I
can,
however say this: While it's nice that Randall is back from his elementary science and math jokes that just exist to make 9th graders feel smart and cool, isn't it a problem of some kind if he has to go back and add a link to the relevant wikipedia page for people who don't get it?
-----------------
The fact that
Moe
hasn't updated since September 14th is a tragedy for all of mankind.
On the other hand, I loved everything about this
MSPaint Adventures
installment, the music was perfectly chaotic and sugar-rushed, matching the frenetic energy of the animation just right. I still don't think MSPA is
funny
but am still enjoying it slightly more each day.
--------------------
EVERYONE WHO WANTS AN ALORIA GUEST WEEK NEXT WEEK SAY "RETROGRADE"
-------------------
LATER UPDATE: golly, I totally forgot that I had submitted some comics to
T-Rex Is Lonely
! If you do not recall, that is the website where an upstanding gentleman named Gregor gets people to mix and match different versions of Dinosaur Comics panels 1, 2, and 6 (the ones with just T-Rex in them). When done properly, this leads directly to Fun Times and Much Laffs. ANYWAY mine went up on
October 5th
and
October 7th
. You know it's the same Carl by looking at my
contributor page
.