UGH xkcd is being stupid right now. Why is it so stupid? i don't know. this is just so i can let out a massive internet groan about what xkcd is doing right now. i know he is trying to be annoying on purpose but that does not make it ok.
----------------------------------------------
So a lot of people have been troubled by what I wrote up there, so now I'll explain why I didn't like his Geocities redesign, and then talk about the comic itself.
Visitors to xkcd on Monday were greeted with this (click for a big version):
You can see that something is a little...different, no? Eventually the scrolling red text informed you that this was in honor of the last day that Geocities, home to a myriad of crappy websites that middle schoolers made in the 90s, was going off the internet. Tear, tear. So, to honor it, Randall made a crappy geocities style website.
Lots of people thought it was funny, so I am going to go ahead and admit that maybe my hatred of xkcd is getting in the way of me enjoying this. But all I could think was "this is so OLD." Lots of people make fun of that style of crappy website. Strong Bad was doing it years ago, that is the example that I first thought of. Here,
watch his explanation of how to make a website
, or just
see the website he made
. Basically the same thing. You could also see
H*R's april fools "under construction"
page, which I feel is related.
Ultimately, this is just playing to his fans nostalgia for their own crappy old websites, or their friends'. But it's just annoying. The fact that you are being annoying on purpose does not make it not annoying. Not in the least.
Lastly, I would have, if not enjoyed this concept, at least appreciated it more if it had not been connected to Geocities' demise, just done as a random prank. Like when
Pictures for Sad Children was sponored by Long John Silver's
. (ps if you know of a better picture of that or even a whole mirror of the sponsored pfsc site, do send it to me).
Anyway, let's move on to the comic itself.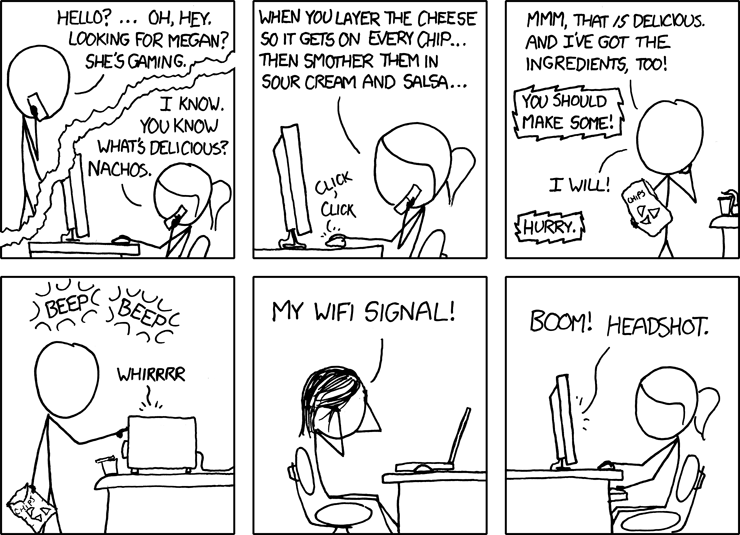 At first, I thought that this comic, the centerpiece of the crappy website redesign, was being deliberately obscure and strange. But I gues I was wrong. I thought it was supposed to be an unholy amalgam of all those xkcd tropes -
megan
,
gaming
,
internet service
,
nachos
- that we have come to love so well, but apparently not. Apparently "my wifi signal!" is how people react to losing their internet service in Randall World, and "She's gaming" is how you say "she is playing a game" or just "she is busy."
Anyway, I guess the idea is that she gets him to use the microwave in order to fuck with the wifi signal and beat her opponent. Clever, I suppose, if we were told
how the hell
she knew which ingredients he had and
if a microwave in the other room
would actually mess that stuff up, or if a serious gamer
relied on crappy wifi.
The whole thing is just so obscure and random and concolvuted, and hard to figure out what is happening, that it really seriously fails.