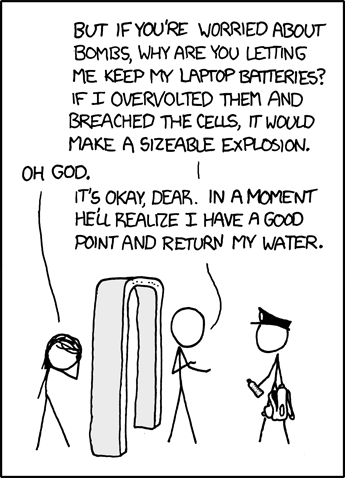 Now that Aloria week is over, y'all better get used to having super-late posts, in true Carl style.
So today we learn that airline safety is actually kind of a joke. Which is to say, we are ONCE MORE REMINDED that airline safety is a joke. It's not like this is
fresh comedic territory
. It's not even
fresh xkcd territory
. Hell, the first minute of the first episode of The West Wing had a character talk about how dumb it was that he couldn't use his phone on a plane for safety reasons (alas, the clip appears not to be on youtube). Didn't Fahrenheit 9/11 have a part about how for some reason, lighters are allowed on planes? Every few months another scathing article comes out talking about how airport security doesn't really do anything, and how easy it is to cause a Major Ruckus with things you are allowed to bring on a plane.
How common are stupid jokes about airport security? SO COMMON THAT AIRPORTS TELL YOU NOT TO MAKE THEM.



But whatever. I guess the whole thing needed a
crazy nerdy twist,
involving laptops. Anyway, this comic just treads those well, well worn comedy paths once more. "it's crazy that you can't bring water on a plane!"
yeah we know. it's crazy. we got used to it, in 2006.
oh also this comic sucks because it's alt-text ["A laptop battery contains roughly the stored energy of a hand grenade, and if shorted it ... hey! You can't arrest me if I prove your rules inconsistent!"] just repeats the exact joke of the comic.
Man, aloria got some
shit-tastic
comics to make fun of, and I get stuck with this boring mess. I should have had her go this week.