Today's comic made me think precisely two thoughts, both rather boring: 1, isn't this just the
Simple English Wikipedia
joke all over again? and 2, apparently Randall has now lowered his standards below the usual high-school level and is now on four-year-old level.
Luckily, a gentleman by the name of Charlton Cheslewite
without even knowing that i had no clue what to write about
said this comic inspired just a divine fury in him that he simply
must
guest write about it. So, here is what he told me: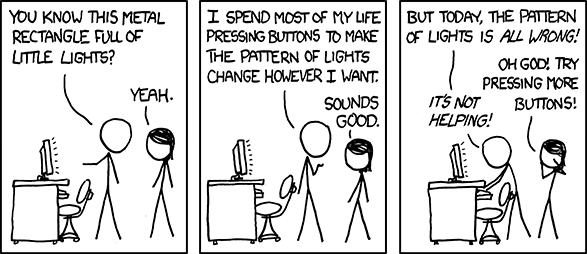 When you really think about it, all that happened was a few chemical and electrical processes that were happening a few minutes ago aren't happening any more. I don't see why you would find that so upsetting, officer. Maybe my knife in his chest had something to do with it, maybe it didn't. It was just some chemical and electrical processes anyway.
Oh hey folks. I didn't see you there, staring at your screens of lights. Potentially you might have been interpreting some vibrations using membranes and novel bone structures. I expect that you've already come across this xkcd comic. I often find it somewhat amusing. Not because I think it's funny, but because Carl's day seems like it was made marginally worse by having read it, hoping to find some sort of humor in it. But today it seems to have bothered me more than it bothered Carl.
Look, I don't know Randall Monroe. I probably don't like him, but I don't like most people. This doesn't stop most people from coming up with things that are kind of useful, new, or interesting.
This newest xkcd is none of those things. Firstly, the joke isn't something new or interesting. I've read lots of versions, but I first heard it on play grounds as a child. People would lose a game of kickball, and vindictively announce that it was just a bunch of dorks running around kicking a ball. And they are correct. School was just sitting around in a class, writing stuff or maybe listening. Jobs might just be picking up a phone, muttering things, and putting it down. Everything in the world is able to be reduced to banal and stupid sounding things if you are willing to try hard enough.
Mind you, that only really addresses the first two panels. I've seen some comments on here hoping that the last panel had some hidden message, some additional meaning. Some posters have even come up with ways in which this last panel was secretly where the joke was. But I believe that the simplest solution is the most likely. Randall didn't want to just use two panels and no alt text. So he came up with another panel a some random crap about his cat.
Oh, his cat. What the fuck did his cat have to do with anything? It added nothing to the comic. He really just felt there needed to be an alt text and had drawn a blank. On the other hand, this was my favorite part of the comic. One of my favorite things is having people I dislike telling me about them getting what they deserve. It's right below people I dislike getting what they deserve on the list of things I like, and right above olives. Hearing that Randall's life is so empty that he frequently talks to his cat, who, I assure you, doesn't give a shit, was the best part of the comic.
When I first started reading this comic, I had really hoped that the man just played with lite brites all day. The comic referred to the buttons he pressed, making clear that he wasn't that cool. Likewise, while the world would be better off if he did, we can conclude that Randall isn't that cool either.
Actually, are any of us that cool?
===============