Because this one's exploding, we'll give it its own post, ROB-STYLE. FUCK YEAH WOOOOO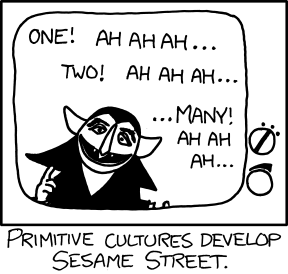 [ALT TEXT: "Cue letters from anthropology majors complaining that this view of numerolinguistic development perpetuates a widespread myth. They get to write letters like that because when you're not getting a real science degree you have a lot of free time." After presumably receiving a lot of angry letters about his alt-text, he added a 'Zing!' at the end. -Ed.]
Let's all pause and take a moment to reflect on the fact that this comic's alt text has (so far!) provoked probably the most agreement this blog has ever seen regarding a comic/alt text. (Even 631, which brought out the "haha you are afraid of vaginas because you are either gay or 12 or both, whereas I, because I am straight and male and heterosexual and masculine, love all portrayals of vaginas, ever, because I am straight and male and never overcompensate for anything" trolls in force.)
Wasn't that fun?
Part of the reason it bothers me is that even if you assume that he's not bashing fine arts people (which isn't the worst assumption you could possibly make, since he doesn't ever really mention them)--people who are, with few exceptions, far busier than science people and therefore obviously vastly superior--he's
still
ignoring the fact that most social science people spend just as much time with reading, studying, research, lab work, etc. as hard science types. I could see an argument for non-social science types (English majors) having slightly less to do, on account of not having a lab. but they are still quite frequently very busy.
It's amusing that he is attacking people who are pedantic about their field. This is Randall "The Southern Half Of The Globe" Munroe. Randall "I Nitpick Over Electron-Labeling Conventions" Munroe. Randall "I Intentionally Bastardize The Wording Of Common Puzzles And Then Attack That Wording For Being Difficult To Understand" Munroe.
He is the KING of the fucking pedants, is what I'm saying. He, and his fans, are much more likely to email someone who gets a petty fact "wrong" than most other demographics--certainly much more so than the one he's attacking. And he doesn't limit himself to science facts, either. He's a pedant about everything, and, as pedants usually are, he's wrong about it just about every time.
An anthropology major or someone in a related field might email him about this one, it's true. But they're probably not going to email him about a completely unrelated field. Compare to, for instance, Randy himself. If he had not written this comic, but instead stumbled upon it, having read the Wiki articles he used to make it, he would probably have emailed the writer, saying that this view of neurolinguistic development perpetuates a widespread myth.
Randy is a physicist. His entire background in the humanities consists of "reading articles about it on Wikipedia and subsequently disparaging the experts in those fields who made the Wikipedia article he just read possible." And yet he disparages them on his comic even more frequently than I devour a thousand cheeseburgers in one terrible gulp with my horrible gaping maw.
Which is to say, a lot. (Because I am fat.)
Even the forums are coming down pretty hard on this one. Bets on how long until Randy either mysteriously changes the alt text or issues some sappy apology?
also fuck you carl
==================
OK now it's carl writing.
FUCK YOU right back, Rob! I'm glad you wrote this though, I didn't want to admit I may not have the time for this one. I'll let this be the official post on 764 because then i have less work to do, but we can't let this go without mentioning something else:
First it was comics about basic math (3x9, in this case)
Then it was comics about learning the difference between similies and metaphors.
Now it's comics about Sesame Street.
Am I the only one noticing a powerful trend towards appealing to children?
That will be all.
===================
Wait, no, carl again, back with updates. First off, to people reading this post in the future, read the comments. There's a huge amount of them but some really good discussions going on.

later update:
It just occurred to me: when was the last time we had an xkcd character with eyes? I think it helps a lot. Just imagine how weird it would be without them. I think he should do this more often.
another update:
Rob, i can't believe you forgot where "cuddlefish" got started! it was
here
. As you can see, it was Amanda's idea. It is interesting that while she constantly refuses to become a regular blogger on this site, she has given us by
far
our most lasting meme.
also:
This is linked to in the comments but I want to make sure everyone
sees it
.
===================
Last update, added way after our original post insulting this comic:

Zing!