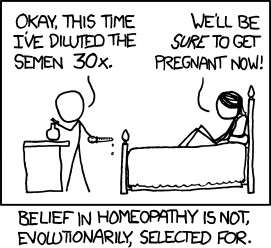 [alt text: "Dear editors of Homeopathy Monthly: I have two small corrections for your July issue. One, it's spelled "echinacea", and two, homeopathic medicines are no better than placebos and your entire magazine is a sham."]
Well! Now that the shit storm from
last week
has mostly died down, and Randall has added a whole new apology where the tag line of his blog used to be. Even though most of us assumed that adding "zing!" to his insult was enough to make it ok, the new notice is there so that we don't take Randall comment the wrong way. When he said "Anthropology is not a real science, and it's really easy, and so you get plenty of free time, and if you are working hard at anthropology it's probably because you are very stupid," he just meant it as "a friendly jibe at a cool field." Well that settles that!
Although I also want to point out that he clearly calls the text that pops up when you hover over a comic to be its "alt-text." Can people please stop giving me a hard time about this now?
Even Randall and I agree on this
!
Now i've gotten all distracted and forgotten what this comic was about. Let me just have a l-
OH HOLY CRAP, IT WAS THE SEMEN INJECTION THING. WHYYYYYYY
I guess I should start by pointing out that despite what some people are saying, the "jab" at homeopathy in this comic is completely different from the "jab" at anthropology in the last comic, for a simple reason: Anthropology, unlike homeopathy, is not bullshit. Calling anthro not real science is just being a prick. Mocking homeopathy, on the other hand, is fine, because being a pseudoscience it is in fact the
definition
of something pretending to be a science that is completely not. So on that count, at least, Randall certainly gets a pass.
That said, making fun of pseudoscience is like shooting very stupid fish in a barrel (fish who are wearing amethyst bracelets to protect themselves from bullets). As far as I know, homeopathy isn't in the news right now, and is as stupid now as it was a decade ago (or inevitably will be a decade from now). As a target for mockery, it strikes me as too easy. For
example
. (understand that i am linking to that video not to complain about it, but to use it as an example of this being done before, being done easily, and being done better)
But of course, that's not what anyone will remember from this comic. They'll remember the part where the dude makes a diluted semen mixture in an attempt to impregnate the girl. Maybe you read webcomics to see stick figures play with their ejaculate; that would just be another way that you and I are different. So I found that the gross out factor of this comic - in the context, of course, of the dozens of other far-too-much-information xkcds - just a little distressing.
Then there's the caption. Now I don't really care whether homeopathy's point is that you dilute things a lot but the water into which you've diluted them ends up more potent than the original substance, or if homeopathy says that by ingesting an absurdly small, possibly nonexistent amount of a bad substance, you immunize yourself to anything else which could possibly give you the same symptoms as the toxin. (like I said, it is just
stupid as hell
). Clearly, one makes this comic make sense and one makes the comic make no sense. But the logic of this comic still is pretty dumb: How would belief in homeopathy be genetic? That is silly. No "beliefs" are genetic. They can be passed down from parent to child, but not genetically. I mean, I guess it's to be expected that a webcomic author wouldn't know an actual science like biology. zing!
This is another comic where an aspect of pregnancy particularly burdensome on the woman - in this case, actually being pregnant - is portrayed as being shared equally. The text is "we'll be sure to get pregnant now" as opposed to the more, say, accurate "I'll be sure to get pregnant now" or even "we'll be sure to get me pregnant now." There are other examples - when a woman who has just given birth says something like "sweet! we made a baby!" and maybe some more. I'd love to link you to them but HEY, the search function on the homepage just disappeared! DAMN. That's ok, i guess, it was pretty bad at doing its job. Maybe he'll bring it back soon with a better database of his comics?
OK guys, almost done with this one. Let's get to the alt-text, conveniently reproduced below the comic above. I actually really liked the alt-text. I liked that he found a homeopathy magazine, pointed out that it made an elementary mistake, used that to question its basic grasp of science, and then just came out and completely insulted the whole premise of the magazine. It was well done, I thought. Lucky he found a typo in the July issue of Homeopathy Monthly magazine, I thought! Then people pointed out that Homeopathy Monthly
is
a sham, not in the sense of "it spreads dangerous lies to people" but in the sense of "it doesn't exist and Randall made it up."
I think that is the definition of a Straw Man, no? (not counting the definition "a man made from straw.") He sets up a fake magazine to act as the proxy for the homeopathy industry, claims it made a dumb typo, uses this to show that the magazine is dumb, and uses
that
to show that the industry is dumb. But the whole mistake wasn't real! he made it up! So what is the point?



Guys, can you believe the stupid thing Politician X said about the gulf oil spill? He said that the birds covered in oil should be happy about it, because they can sell the oil for lots of money! That's so stupid. I should use the same logic and spill oil all over Politician X's car, house, family, and legislative district. I'll tell him it's a campaign donation!
This might be funny if a person had actually made that claim about birds in the gulf of mexico (well, maybe not funny, but i didn't try very hard). But since I made up the quote, who cares?
And lastly, the baster that the man is holding, the one which will be inserted into the woman, appears to be the same length as the distance from the woman's knee to her foot, and wider than her leg. Discuss.