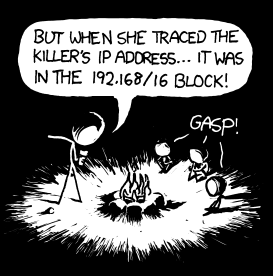 "The call is coming from inside the house!" is one of the most cliched lines in American scary story culture. How cliched is it? The
very first
Simpsons' Halloween Special features Lisa ending a story with it (Bart is not scared in the least). That's from nearly 20 years ago. Now I'm not trying to say that Randall is
actually
trying to be scary here - of course he's not - but I'm just saying that all he's done is take something
incredibly
cliched and add some nerd cred to it.
I actually think the easiest way to explain why this bothers me is to do it with a different medium telling the same joke.
This comic is nearly identical to the shirt which reads "
There's no place like 127.0.0.1
" (a slogan thinkgeek likes so much they sell not only the shirt, but a
bumper sticker
and a
doormat
too), which I dislike equally. All it's doing is taking a word, "home," and replacing it with a computer nerd phrase that essentially means the same thing. Wearing this shirt is akin to saying "I know that 127.0.0.1 means 'home' " -and nothing more- and laughing at it means saying "So do I," and no more. In short, it's a way to signal to others that you have a piece of knowledge. Nothing else. As such, I find it incredibly obnoxious.
[a quick note: contrary to what some people will say, you do
not
need to know exactly what 192.168/16 means in order to get this joke. the "it's coming from inside the house" line is so strong a cliche that any reasonable person, like myself, can figure out what 192.168/16 means exactly]
All that aside, this is the
second
comic in the last three that has cooler than usual art - it doesn't make up for bad jokes, of course, but it's better than the same thing with lousy art. I hope it represents a new direction for the comic.
i feel like I should link to
this old comic
but I can't quite say why, besides the fake-horror-story connection.
==========
Problem Sleuth review should be up later tonight.
Does anyone know if you can still buy gift certificates at TopatoCo? I know you used to be able to but I can't find it anymore. I am trying to get contest prizes but it is difficult. I may have to switch to some other form of prize.