It is with a heavy heart that I inform you that, after writing this, Harrison died a tragic death, murdered by a swarm of cuddlefish. In honor of his noble sacrifice, please join with me in enjoying Harrison's final words.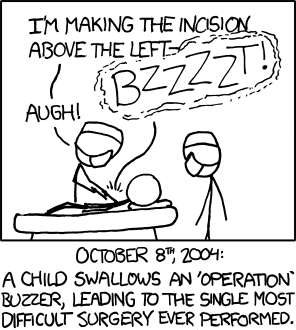 Maybe they're right. The cuddlefish, I mean. Maybe I do just hate xkcd and discriminate against it unfairly. 'Cause after last Friday's train wreck of a comic, this one is, by any objective standard, pretty good. And yet it leaves me feeling... meh.
My initial reaction (after "meh", anyway) was that this concept might actually make a pretty damn good SMBC. It's the sort of recontextualizing joke Zach Weiner does best, after all, since it's obvious what's going on in the panel. (Or at least it's obvious that "Operation" is somehow involved.) And the alt-text mirrors SMBC's dark streak pretty exactly.
But, as usual when Randall tries to rip off SMBC, it just doesn't work. Again, part of this is overreaching: With one panel and no facial expressions, you can't get the same
oomph
as, say,
Sunday's edition
. But most of it is, how you say, fucking bad jokesmanship. All humor is based on an element of surprise: you're led to expect one thing, but instead you get a swift kick in the balls. (See what I did there?) And the gap between what the panel leads you to expect, and what the caption says is actually going on, just isn't wide enough to provoke more than an "eh."
To be honest, I can't even imagine how Randall thought this was funny, except maybe as anti-comedy. (If you look at it as a deliberate subversion of your expectation of a joke, though, it fucking kills. [Okay, it's not that great even then, but little Randy needs to build up his self-esteem somehow.]) There's a classic Steve Martin bit, from back when Steve Martin was funny, which goes as follows:
"I guess I'm kinda thinking about my old girlfriend. We were together about three years, and uh... sometimes when I get on stage I think about her, because she'd travel with me, and I'd be performing, and I'd hear her laugh... I guess I kind of miss her. And, uh... she's not living anymore, so... [laughter] You think that's funny? I guess I blame myself for her death. We were at a party, we were fighting... And she began to drink. She ran out to the car, I followed her, I guess I didn't realize how much she'd been drinking. She asked me to drive her home. I refused. We argued a little more, she asked me again to please drive her home, and I didn't want to... so I shot her."
That's
funny shit
, and of course it's even funnier when you hear it delivered by the master instead of in black-on-white on the Internet. But imagine for a second if the punchline had been replaced by: "...so she got in the car, drove off, and was hit and killed by a drunk driver."
Way less funny, right? Yet it still technically subverts your expectation of how the story's going to end -- it's just so close to those expectations that it doesn't work as a joke. Because I have a constant hunger for newer and ever more mixed metaphors, second only to my craving for pure uncut Bolivian marching powder (damn STRAIGHT I'm making fun of addicts now, ISHMAEL), I'm going to describe 738 as a paint-by-numbers duck. It looks like a duck, it quacks like a duck, but it's still not a real work of art. I think my meaning is pretty clear.
Unorganized thoughts: 1. A number of you have said that this would only work if the kid swallowed batteries, too; I've never taken an "Operation" gameboard or whatever you'd call it apart (or seen one in the past 10 years), but aren't the batteries contained under the buzzer? Anyone wanna do some science and get back to us? 2.
This
is disgusting; hat tip to Bangs Cheese (eww) for pointing it out. 3. Why
does
it take place in October '04? Like on Friday, I have only conjecture: Either he's appealing to his Bostonian fanbase -- October 2004 being of course the month the Red Sox toppled the Yankees in the greatest series of all time -- or he pulled a date out of his ass. 4. Your deja vu is
justified
.
P.S. I only just thought about this now, but I wonder if last Wednesday's comic had something to do with the "marathon post-ROFLcon epitaph session" that led to
this far superior Dinosaur Comic
. If so, maybe Randall should talk to funny people more often, as it doesn't look like the relative success of last week's first two comics is gonna be repeated anytime soon.
P.P.S. This is the last comic of my guest-posting run, and I just wanted to thank y'all for being as active and often hilarious in the comment threads as ever, as well as for not finding my home address and mailing me bombs and/or rotting foodstuffs. (They haven't come yet, anyway.) AFAIK, Carl will be back on Wednesday, but I thought there should be some way to repay you for your support/patience. I've been thinking about some advice my father gave me in my younger, more vulnerable years, which I've been turning over in my mind ever since and which I want to share with you guys tonight. It's relevant to the purpose of the blog, too; I think we can all learn something from it.
"Whenever you feel like criticizing anyone," he told me, "just remember that robot bacon can has Christopher Walken."