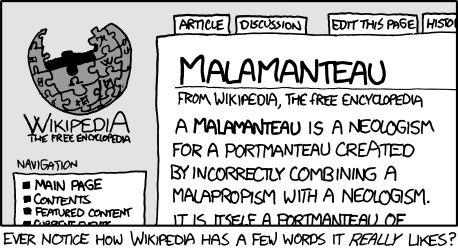 Hello dear readers! It is good to be back. Alas, I regret that once each year I must visit my hidden moon base and ensure that my robots are harvesting its sweet moon juices, though I hope that soon I will be able to do this via telecommunico-transporanarium. Until then, I think Harrison for dealing with a tricky week, and Rob can go suck a cow.
Today's xkcd comic genuinely mystifies me. I'd like you to try to imagine me writing the following post (the beginning of it, at least) with a more honest voice, not the sarcastic one I usually employ. Today's comic asks us a question: "Ever notice how Wikipedia has a few words it
really
likes?" And the thing is, I haven't. I have never noticed that. Have you?
Now it's true that I don't spend as much time on wikipedia as some people, those who notice
some very specific facts about the website
, so perhaps I am not in the best position to judge.
But really- what word is he even referring to? It can't be "Malamanteau," since that isn't a real word and isn't on wikipedia (though of course some xkcdicks
tried
). Some have suggested that the joke of this comic is that wikipedia loves the words "neologism" and "portmanteau" but that seems silly; the fictional page on "malamanteau"
should
have all those words in it, as they are crucial to understanding what the word "malamanteau" means.
Alas, like all xkcd comics, and wikipedia ones in particular, many xkcd fans assume that it is the height of cleverness to attempt to twist wikipedia to fit the world of xkcd. Why people do this, I do not know. Some seem to take a
perverse
joy
in it. (that last forumite would be particularly terrible to argue with, I suspect - "let's get enough of us shouting the same thing and it will have to be correct!").
Anyway - I still have to ask: What words do they mean? Do they mean words that have articles about them (ie, wikipedia likes some words so their pages get to stick around while others are deleted) or do they just mean some words get used more often in articles?
this comic is like observational comedy but
no one has shared the experience it is describing.
------
Here
is an example of a terrible way to tell a joke. He starts with the conclusion, then explains the process which got us there, then says the conclusion we've already seen as though it is a punchline. BAD JOB.
I got way far behind on
Homestuck
recently and am trying to catch up. It is not fun, and I do not know why I am doing it.
Achewood has taken a turn a turn for the
very, very creepy
recently, but as should be expected, is doing it well.
Dinosaur Comics
and
Overcompensating
both have new DISTURBINGLY SIMILAR shirts for sale. I see their sale and i call:
shenanigans.