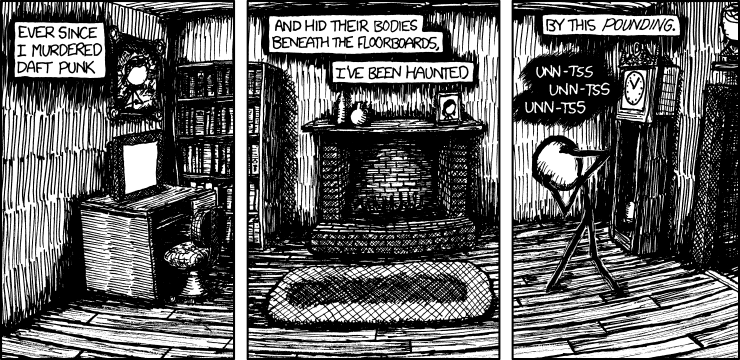 alright so CLEARLY we are all looking at this comic and saying "woah hey that art looks different! it looks cool!" As you know, though, I am a crappy artist and thus do not like to really talk about what the art in xkcd is like. I agree that it's cool. I think it adds a lot to the feel of this comic, and lets everyone know "HEY GUYS, YE OLDE TIME HORROR" genre without having to outright say "poe reference! poe reference!"
A lot of people like to take comics like this and give the joke a pass, saying that at least the art is good, so we should be nicer on the joke. I, of course, disagree wholeheartedly. The whole reason that this is a
comic format
is to tell a joke; the art (as well as the text and any other details) should be serving that end. If we just want nice art we can go to a museum.
Now this is, actually, one of the few cases where I think the art in xkcd
does
help advance the joke, as stated above. But the art can only do so much - how is the joke, on its own?
I say: Pretty bad! The joke seems to be that much like the character in The Telltale Heart, who (spoiler alert!) hears the beating of the victim's heart after the murder has happened, the main character here hears the pounding bass of one "Daft Punk" band of musicians, known, as we are aware, for their steady techno beat (commenters! this is your chance to harangue me for my usage of "techno" right there! go!).
So, to reduce it further, the joke is that he killed the band, and then he heard their beating, which is sort of (like most beats) a heart beat, so it is a lot like the story. But - that doesn't really make sense. Throwing out the whole premise of "wait, you killed the band? what's the story there? why did you do that? oh, i guess we are supposed to not care and just go with it," it's still not done right: The "crazy twist" is that he killed a modern popular band, giving what should be a humorous contrast between the format (gothic-y horror) and the content (daft punk). But that contrast is given away in the first panel! and it doesn't even get emphasis, it's just an aside! it's just "ever since I murdered daft punk, [rest of the sentence]."
An even better joke, as many people pointed out, if to have the beating be real, and just be coming from the floor below (bass being a frequency of sound noted for causing reverberations elsewhere nearby). In fact, he could basically have just pasted
comic 411
right underneath this one, and that would have worked pretty well.
that is all i have to say on THAT matter, I think.