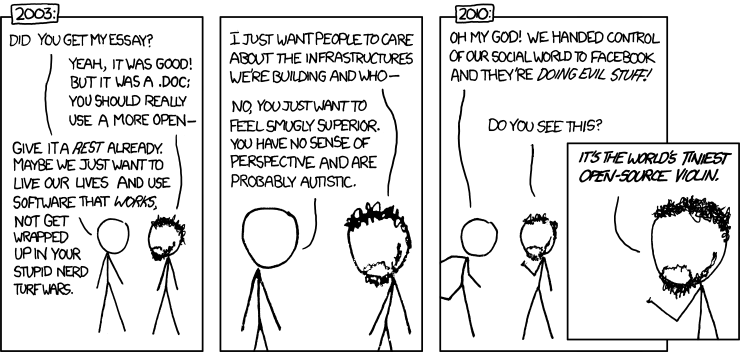 Oh man. This comic - so terrible. So very terrible. So bad that a single weekend is not enough to document its problems. In fact, I'm having trouble contemplating the idea of even ripping it apart now. I guess I'll have to just take it panel by panel.
PANEL 1.
So far so good. The comic appears to be taking a stand that, while perhaps not explicitly
opposed
to free software in favor of working software, is at least opposed to annoying advocates of free software. It's nice because xkcd usually takes the opposite stance, advocating
against proprietary stuff
and making jokes for users of
open source operating systems
or other
programs
.
As an added piece of evidence that the facial hair character is meant to be the non-sympathetic one, his dialog is much less natural than the regular stick dude. Regular stick dude's speech is probably the most realistic dialog Randall has written in months. This comic is looking good!
(of note for later: the relationship between the two characters is that of a student and a teacher, with the student e-mailing an essay to his teacher. This is not definite, but the fact that one is portrayed as older, with facial hair, suggests it).
PANEL 2:
Oh man, this comic is turning out great! That guy
totally
stuck it to that nerd! This is so weird, but enjoyable. And what is awesome is that people are always using those same complaints against Randall and xkcd. I mean, I am not going to accuse anyone of being autistic because that's dumb if it's false and completely obnoxious if it's true, but the "you are only saying X nerdy thing to feel smugly superior" thing could have been taken from the the comments here. Or the blog posts, for that matter. Dang, this comic is full of promise!
but wait - you can use openoffice to both create and read .doc files. So is it really not "open" ? I mean, you can go a whole lifetime making only .doc files (not odf or whatever) and never buy, steal, or use a Microsoft product. So...philosophically, what is wrong with .doc?
Oh, I know, this will probably turn into a joke about .docx, those are annoying. I mean, Openoffice can read them, sure, but it can't make them I don't think, and yeah, that is annoying, along with all the other changes we all hate about word 2007.
PANEL 3:
wait, what? How is facebook even involved in this? What is going on here? Why is this person being dumb? Why is Facial Hair acting like this vindicates him? Let me list some issues I am having with the flow of this story:
--Facebook may be closed source, but that is hardly relevant to the argument in panels 1 and 2. The problem is
stupid people
who say "You want all this information? OK!" and then get annoyed when facebook - a for-profit company! - uses that information
for profit!
amazing. But how is this a problem of open vs closed source?
--Is this comic really trying to say that using .odf in 2003 would have somehow
prevent
the rise and/or evil-ification of facebook? How does that make sense? I know plenty of open source folks who still have a huge facebook presence. There's no connection there!
--Why did the person who was talking so
naturally
in panels 1 and 2, the guy who actually sounded
like a real person
suddenly switch to a particularly terrible strawman? "We handed control of our social world to facebook and they're doing evil stuff" is clearly not something a real person would say.
Sometimes people get annoyed at the argument that dialog is "unrealistic" so I'll spell it out more than usual this time. The guy is mad at facebook, right? So in real life, he would just
complain,
and the other person would mock him and say "well that's what you get for giving them control of your social world." In other words, he's clearly admitting that
he caused the problem
in the first half of the sentence, and then complaining (in a simplistic, almost childlike way) about the problem in the second half. It's the kind of thing that only really would make sense in, say, an elementary school play: "I am the King of England, and I think it would be bad for the Americans to be independent because I want all their money for myself!" or "I am the sugary food group. I want to break all your teeth, and I hate it when you eat healthy vegetables!" You know what I mean? It's usually used in strawman arguments like the one here.
--Where the heck was I. OK so here's a thing: Why are the two people acting basically unchanged over 7 years? They are acting like they just are continuing their conversation with nothing having filled in in 7 years. I certainly never went back to
my
teachers 7 years after I turned in an essay and mocked them for something they said at the time, but then again, I also never called my teachers autistic, so who knows. I'd like to say that maybe they were just friends, but what kind of friends talk like that? No one. This comic wasn't thought out at
all,
and I'd like a defender of it to explain what the relationship between the characters is for me. I don't think there's one that makes sense.
--Facebook has been doing evil stuff since forever. Remember the uproar over the
newsfeed
? that was way the heck back in 2006 and people got real mad and then stopped caring. Is it
evil?
That is hard to say. But is the panic
justified?
I'd say not. All we are left with, then, is the Beard Dude taking joy in his astounding vindication when really
he has no reason to be vindicated.
In a month this guy is going to forget he was ever mad at facebook.
--"This is the world's tiniest open-source violin" ?? Is this the single lamest retort in all of xkcd? All that tells me is that the violin is
probably not going to work right.
Now granted, the concept of telling a person that you are playing a sad song on the world's smallest violin has never actually made much sense to me.
Urban Dictionary
sort of helped me out but it doesn't really make sense in this context. Why should the metaphorical tiny violin be open-source? Just because the dude was complaining about open-source stuff
seven years earlier?
What does it even mean for a violin to be open-source? Did a lot of people help build it? Can anyone edit it? And what is the tiny violin playing? That's the way the joke usually ends, no? And isn't it a little dumb to be making your punchline a slight variant of a joke
at least 30 years old
?
And after all that, the character I liked is shown to be an idiot, and the nerd who was just trying to be smug is shown to be the wisest of them all. Well hot damn. So much for having
hope
anymore.
relatedly,
new member of the xkcd forum
for the win. The forums in general on this one are refreshingly honest about the fact that this comic
makes no sense.
Some folks are trying to defend it, it is MOST amusing.
====================
as long as we are talking, I should point out that the xkcd store is selling
something new
and it is a thing with which i can find no fault. That said, it may be time for the store's page to get a little better organized - perhaps by product type.
=====================
Also, I would be more than happy to stop blogging entirely if I knew that Al Franken would be analyzing xkcd comics on the Senate floor. As it is, I have to settle for him
analyzing Tom Toles
. I think Al Franken is quite funny so I assume he's being at least 75% ironic here, but it's hard to tell, and certainly other people are going to be less likely to give him the same benefit of the doubt that I have. Weird.