You clamored for more Rob, you begged and pleaded, but instead you got Harrison, who explains why XKCD sucks in general as well as specifically!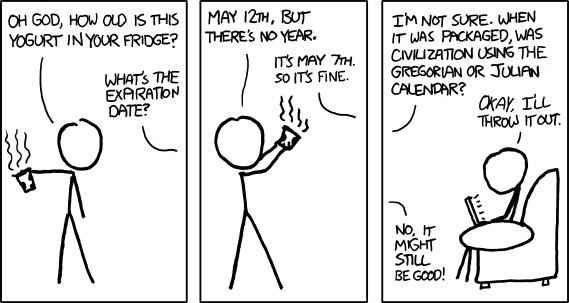 Sigh. Okay, so this is one of those weird comics that comes up from time to time that just don't seem to have a purpose. It's not a joke, it's not an attempt at interesting or insightful commentary, it's just a couple of stick people exchanging "witty banter" (or perhaps, in the striking phrase of one commenter, "two douchebags arguing over something inconsequential") that is neither witty nor banter. (Discuss!)
I don't have anything against
actual
witty banter, mind. It's one of the defining elements of screwball comedy, and I love me
some
screwball
comedies
(plus
stuff
that doesn't really qualify but is clearly screwball-influenced). But there are two major, major differences between something like this and something like (the good, 1940s)
Mr. and Mrs. Smith
.
One: All good screwball movies -- actually, most comedies of any stripe that are worth anything -- ground their dialogue in strong characterization. Since everyone in xkcd-land is indistinguishable unless they're a girl or wear a hat, Randall has never developed strong characters. So this strip lives in a vacuum, a portal to a few seconds of two friends' lives (or are they really friends, after all? Can anyone really ever know another person well enough to be a true friend? Yes, duh, you're fucking retarded for asking) with none of the before or after to provide valuable context. It's another example of Randy doing something that might be funny in the right hands, but fails miserably thanks to the arbitrary restrictions he's set on his comic.
Two: Screwball comedies are, y'know,
funny
. This is more like a bad Johnny Carson joke: "This yogurt is really old. "
HOW OLD IS IT
?" "It's so old, people were using a different calendar when it was packaged!" Except Carson would never use that, since it's terrible and makes no sense, thus the May 7/May 12 crap to make it "work." Except even then, if you dig into it, it still doesn't
actually
make sense; the Julian calendar is currently 13 days behind the Gregorian calendar (which we use), so yogurt that expires May 12 Julian would expire May 25 Gregorian -- in particular, it'd still be good on May 7 of whatever year. Plus, to get technical about it, "civilization" never used the Julian calendar exclusively (think China), and between the 1400s and 1918 even different parts of the Western world used different calendars. Oh, and more importantly, it's incredibly awkward (would any real person ever say "when this was packaged was civilization using the Julian or Gregorian calendar"?) and unfunny. So there's that.
In conclusion, this is textbook bad xkcd: Randall writes a "joke" that's way too complicated for its payoff, puts it in the mouths of characters we've never seen before and will never see again (with not one but two lines of post-"punchline" dialogue), and draws it shittily. And then to top it off he can't even think of anything different for the alt-text.
A postscript: some commenters have said shit like "I've never seen a perishable product with an expiration date that did not include the year." So I'mma blow your friggin' minds now by telling you what I believe to be the
SUPER-SECRET ORIGIN STORY
of this terrible comic.
We know a certain dorm at MIT, which shall remain unnamed to protect the weird. A long time ago, there lived in the dorm a mildly lactose-intolerant senior, who decided one fine October afternoon to make himself some macaroni and cheese. (He was only mildly lactose-intolerant, remember.) So he bought some milk, cheese, macaroni, made his dinner and put the rest of the groceries in the community fridge. For the rest of the year, however, he never gave a thought to that milk when he opened the fridge -- after all, it couldn't be his, since he was lactose-intolerant!
Anyway, eventually the spring semester came and went, and the lactose-intolerant student cleaned out the fridge for the last time, but left the milk, thinking it was someone else's. Summer passed, August came, and people started to move in to the dorm for the fall. They noticed the milk, with its stated expiration date of OCT 18, and thought: Huh. I didn't know milk kept for that long.
Well, it doesn't.
Pretty quickly the truth was discovered, but instead of throwing out the year-old milk (now known as The Milk), the students (perhaps addled by the courseload) decided to keep it. It's still there, some 15 years later, living in its very own mini-fridge. A few years ago, it even had a bar mitzvah (question for Jewish readers: would it be kosher for sentient The Milk to eat meat?) I don't know if there are special plans for its 16th, but if they are, I'm sure they're
awesome
. Unlike the comic.