Hello, everyone. It is Harrison week, but I, your faithful guide Rob, wanted to note that Carl is an inferior human who had POOR POOR HARRISON sending his emails to the wrong email address. That is why this is later than usual. Without further ado:
Sup, bitches? I'm Harrison, and I'll be your guide for the next few days on our fantastic tour of all the different ways in which xkcd is a terrible, terrible comic, and Randall Munroe is history's greatest monster (yes, worse than Jimmy Carter).
First let me wish you all a happy Cinco de Mayo. In honor of the Mexican battle or whatever today commemorates, I will write the remainder of this post entirely in Spanish.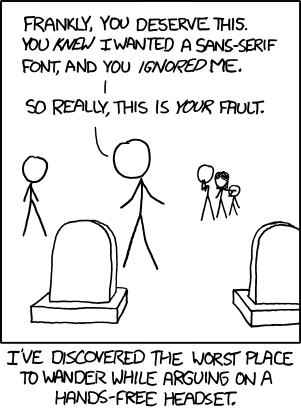 Eso comico es horrible. Primero, no estoy loco. Donde esta la biblioteca? Somos extremos, como la television. Claro que si?
La cucaracha, la cucaracha, para bailar la bamba. Besame mucho. Soy un perdedor.
...Fine, I can't write the post in Spanish. But I totally would if I remembered anything at all from high school, because
that's the kind of crazy bastard I am
. But this blog isn't about me, it's about the comics, so let's move on to that.
This comic... actually, this comic isn't that terrible. My biggest beef with Randall has always been his inability to stick to a basic setup-punchline structure -- see e.g. his repeated use of PPD and propensity for telegraphing the joke. And to his credit, there's none of that here. The title doesn't describe anything that's not made clear in the panel, and the punchline is safely tucked away underneath, with no extraneous crap afterward. If Randall's stealing from SMBC, it at least seems like he's learning something in the process.
However, like many previous editions of xkcd, and also many cakes, this comic may be amusing and/or delicious-looking at first sight. But if you start to pick at it, it crumbles, and any attempt to repair it causes further crumbling until the comic is no longer funny, and the cake is ruined. (And I'll never have that recipe again....) So let's start picking, 'cause that's what we do.
I'll start with the most obvious flaw: sweet zombie Jesus but how is the subject not up there with airplane food or toilet seats in the pantheon of Cliche Comedy? Over 3000 Google hits for
one specific phrasing
. (Okay, 3000's not that big, but I gave up a good ten minutes for you trying to find a better search term. That's ten minutes of my life I'll never get back, so shut the fuck up already). Point is, "haha headsets make you look crazy/socially deviant" is not exactly the cutting edge of comedy. Even Randall's
done it before
, and while I'm not convinced the first time was "good," it at least had the throwaway line "Shit. Does Bernanke own a crossbow?" which is pretty much comedy platinum.
But there's even more wrong in this delicious crumbly cake of suckiness. For instance: Why the hell would using a serifed versus a sans-serif typeface ever be so important? I can only think of one obvious scenario where anyone would care about such trivialities, and am thus forced to conclude that Stick Guy is now playing the part of Don Draper. (Yes, I get that Randall made the conversation about something stupid to add an extra layer of wacky frosting. But it just comes across as forced.) That's not even the only distracting incongruity; in the background, stage left, we see a family reacting in shock and horror to Stick Guy's apparent conversation with the dead. But stage right there's another person, much closer to Stick Guy, who isn't reacting at all. Why isn't he shocked? Did he, too, once kill a man for using Times New Roman over Helvetica? Or does he just see the headset while the family can't? Either way, why the fuck is he in the comic in the first place? His only purpose seems to be to distract the eye and annoy me. Whatever. Fuck that shit. Let's talk art.
I never feel good about criticizing xkcd's art, since I'm pretty sure I would in fact be worse at it than Randall is. So I was happy to see that the art here is pretty adequate. But does the kid in the background have a Sarah Connor moustache? Or is he just pulling his forehead skin over his eyes in shame?