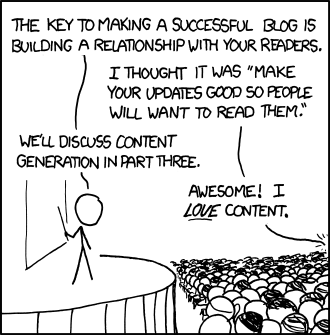 I think there's a lot of debate over just what the point of this comic is. The
Forums
, certainly, are a mix of confusion and differing theories. My own theory is that it's making fun of people who claim to know how to work well with new media but are really full of BS.
As I read it, the character on stage is supposed to look stupid, and the guy in the audience is being sarcastic in both of his comments.
The fun part, as many people here and elsewhere are pointing out, is that xkcd has
exactly
this problem nowadays, to the point that many of us think this may be thinly-veiled self mockery. Except, of course, that Randall Munroe is incapable of self-criticism and mockery and can't really take mockery or criticism from others [I am not speaking of my own, of course, because mine is the toughest of love and the hardest to accept]. Most readers have already substituted "webcomic" for "blog" in the text, and noted that silly "relationship with readers" stuff (think "get out of my head, Randall!") is
exactly
what makes xkcd popular these days, because we all know the content is lame.
And hey, as long as we are talking about what a blog should do and how it should interact with its readers, this seems as good a time as any to say that I am really happy with the little community that this site has built up and I try to participate in it as much as I can, because I do think that makes it more fun to read and more fun to comment, for you guys and for me. I've been really slow with e-mails these days so if you wrote me one and I didn't respond, you should probably send it again because at some point I just give up and need reminders.
============
In other news, my review copy of the
first Problem Sleuth book
came in the mail yesterday! I will write a review in the next few days. First impressions: the story loses some of the fun when it goes to print (in terms of lost animations), but it's a lot easier to follow and read.