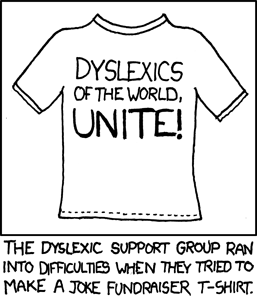 I'm going to do that thing I do - that thing some cuddlefish insist I
never
do - and say I liked this comic. I liked it because I read it and it made no sense, and then I read it again and it made perfect sense. My brain just had to figure it out, and that process was satisfying in a way that produced humor.
That said, it's not perfect - for one thing, there's a basic SAT subject/verb agreement problem (either "the support group ran into X when IT tried Y" or "the members of the group ran into problems when THEY"). A bigger issue is that the phrase "tried to make a joke fundraiser t-shirt" isn't all that clear. Of course, you know what it means eventually, but I think there's a simpler, more direct way to write it. I think it has to do with the idea that my brain can't really grasp "joke" as an adjective. I know some people use it that way, but it always sounds weird to me. I think "funny" or "humorous" or in this case even "novelty" would work better.
Also, cut out the word "fundraiser." Why should we care why they made the shirt? All we care about is that they made it wrong in a funny way.
Put that together and you have "The dyslexic support group ran into difficulties when the members tried to print funny group t-shirts." Or something. Still not perfect but I think it's better. Anyone else want to take a stab at it?
All in all, though, even though most of my post is criticism, it's still a good joke that wasn't as botched as most. It's still a good example of why an editor - or at least a second draft! - would help xkcd a lot.
That said, the comic's still not as funny as
this
.