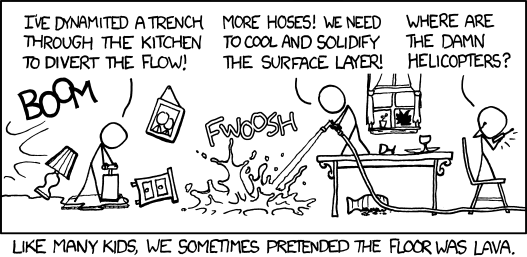 A lot of people in the comments have been saying they liked this comic more than they usually do, and I agree. This one is pretty good. It has a crazy situation that is resolved in a logical and understandable way, and while some people have claimed that makes it very much like a Saturday Morning Breakfast Cereal, I think it's a far broader category than just that one other comic, so it is not a problem at all for me.
I also particularly like the fact that he has conveyed a lot of
energy
in the drawing on this one. Though there are flaws with his artistic ability, as always (in this case, it's hard to tell whether the characters are children or adults, which is important), he still managed to convey a scene dominated by chaos. That's funny, as a general rule. It's easier to do in film, of course, where you have not only moving images but sound as well, but it is certainly possible in a static image as this comic proves. It's the various explosions, they are good for this task.
Anyway, since the comic is pretty straightforward and I don't have much else to say about it, I thought I'd talk a little about the
newest blog post
Randall has up. We'd been wondering what the purpose of that color survey was, and after two months he finally told us. Of course, the data has no
actual
value in any scientific sense, as the participants were self-selected (as was the extent of their participation), there was no control group that I can tell, and all the information was self-entered. Much like any online poll, the data is worthless. You'd think a "scientist" like Randall would care about this, but at the same time, I don't think he is trying to present the data as anything more important than it is.
My real point about the post is that all else aside, it's pretty interesting! And while it has a few bits of humor and sketching thrown in, that's clearly not the focus. The point is, Randall has some interesting ideas and he wants to tell you about them. In other words,
it is a perfect post for the as-yet-theoretical Randall Munroe Illustrated Picto-Blog!
We really have got to make sure he gets the message that a blog is the right outlet for his ideas.
=================
I think anyone talking about humor on the internet should really read the newest
Overcompensating comic
. And anyone
looking
for humor on the internet should really read every Overcompensating comic.
=================
To cover my lazy ass for the next week, the next three comics will be reviewed by guest HARRISON, who you may recall from
this post
, which, though he did not know it at the time, was actually his secret tryout for guest posting in the future. it was a tryout which he passed, clearly. enjoy folks. I AM WATCHING YOUR EVERY MOVE.