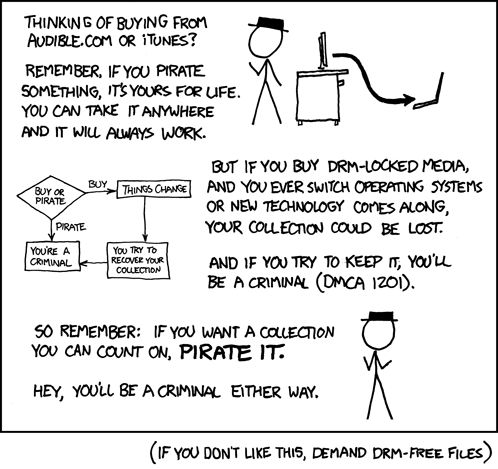 OF COURSE xkcd would follow up a
pretty good comic
with a piece of shit one.
OK - so apparently Randall Munroe has become
outraged over copyright law
. This is ok. Nothing wrong with that. But if you are going to make it into a comic, at least try to make it....
comical.
Basically we have a mini lecture about copyright law, an unneeded flow chart that may as well be labelled "Hey guys, if you don't want to read this waaaay long comic just check out the summary over here", and...that's basically it. Oh, and you have Mr. Hat, just kind of sitting there not being funny, as though his mere presence is enough to instill greatness upon the comic. Amazingly, this does not work!
How is this for a way to try to make this comic something more than just a lame piece of anti-DRM propaganda (not that I'm opposed to anti-DRM activism, I just don't like it right here): Some kind of comic with a guy at a computer, and a police officer warning him not to download music illegally. So he buys music, and then later he's at a new computer, and tries to copy his music, and the officer warns him that that's illegal, so he figures he'll download music illegally because he already bought it once legally, and the police officer warns him against that, too. So he goes over to his old computer and just starts playing the music there and listening to it while he's at his new computer, and the police officer tells him that's illegal too, and then warns him against humming the music, or thinking about music, or breathing, and then arrests him just to be sure. And then there's a tagline like "Pirated Music: Because DRM Is An Annoying Little Bitch"
Update:
I forgot to mention last night, but commenters reminded me: iTunes does offer DRM-free music, it's just a little bit more expensive. So this comic is like saying "Boooo,
Pop Cap Games
suck because it's impossible to access the full version of games." Because you
can,
you just have to pay for it. So it's even more whiny than I realized. Commenters also point out that burning a CD removed the DRM. So....comic is like two to three times lamer than I first realized. See comments for more details.