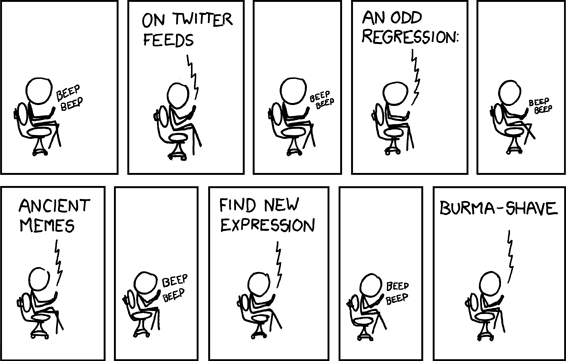 I have never had a more complicated set of thoughts about an xkcd comic before, and they were mostly positive. I guess I should lay this out in terms of the various layers I thought about in the order they occurred to me and you can get a glimpse into the mad world of my mind comprehending this comic:
1. LAME we already know you love memes. Maybe old memes are brought up again
because you keep bringing them up
in your stupid comics.
2. Wait what the fuck ""burma shave" ? What is that, some stupid viral video from 2002? Ugh, if I don't get the joke
no one
will.
3. Off to
wikipedia
it is!
4. Huh. So...not really an internet meme, a kind of way-the-heck-long-time ago pre-internet meme. No way in hell most of his readers know that one.
5. So he's taken the Burma Shave meter and rhyme, and used it to talk about putting old memes on twitter, and in so doing has put an old meme on twitter.
or did he just blow my mind
6. Wait a second. Twitter is probably full of burma shave jokes. That's basically the point of twitter for some people - come up with a meme (Sarah Palin facts!) and then spew out thousands and thousands of variations on it. So...he's basically just taking a meme on twitter and meta-ing it. Like
rickrolling rick astley
or, I dunno, having cats make lolhumans or something.
7. SO MANY DIFFERENT LEVELS!
8. Forumites still suck, and
they can't write poems for shit
.
Anyway, while my head is still spinning, I still think this is a way above average comic...but maybe it's too circular and some of you hate it. You all?
update:
Ok, what the hell -
The Onion: McCain Blasts Obama As Out Of Touch In Burma-Shave-Style Billboard Campaign.
This is dated October 22, so two days later than the xkcd comic - so either those ads are
way
better known than I realized, The Onion doesn't think we'll notice, or it's a hell of a crazy coincidence. I have no idea. For what it's worth I think, unsurprisingly, that The Onion's joke is way better. In part because there are just
more
jokes, but also that it makes a political point about John McCain being old and out of touch.