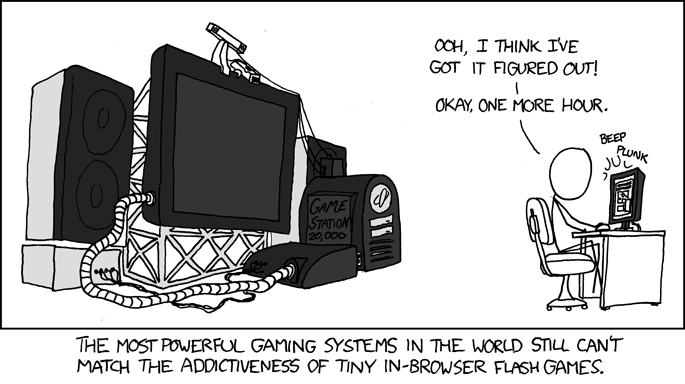 Well,
I said
I didn't have much to say about this comic, but luckily for us all regular commenter Thomas did. And through the magic of the internet, I can make it look like I posted this in a timely manner. So here's his guest post, with the usual stipulation that I do not have to agree with what he says. Also, the title of this post is his.
----------
Comic 484, "Flash Games," leans on a very fun truth: that free games made by hobbyists are often more entertaining than multi-million-dollar productions made for high-end consoles. I agree, and so do the xkcd forums, that there are plenty of great flash games out there.
But xkcd is a comic, not a public service announcement. Let's look for the wounded joke.
The bottom caption spells out the joke, in case Stickman sitting at a small computer enjoying a puzzle doesn't clue us in to the fact that he's ignoring his monstrous gaming setup. Speaking of monstrous setups, why does Stickman own one if he's going to spite it anyway? Giant speakers, a TV so large it requires a steel reinforcement -- if flash games are more addictive, consoles must be doing something right to sucker hundreds of dollars out of everyone who agrees. What's next, does Stickman buy a McMansion and then revel in the joys of having a small garden? Which is better, having your cake or eating it, too?
Stickman appears to own two or three consoles, depending how you look at the grey boxes. The only visible controller is a motion-sensor and what appears to be a wiimote. Hey, wait a minute, I thought the Wii was known for appealing to casual gamers with the sort of simple fare that flash games use? And that there are flash-based sites that take advantage of using the wiimote's pointer as a mouse cursor, so if you wanted the best of both worlds -- nevermind. Nintendo, Sony, and Microsoft are only selling millions of consoles per year because people are blind to open-source gaming. More physics-based puzzles, please!
The alt-text doesn't help the smarminess. Does Randall actually look forward to head-tracking, or is that a shot at the idea that paid-for games will ever be fun, that the "next-gen" will always promise what the current consoles fail to do?
Randall's already shown that his
next comic
doesn't make up for this one.