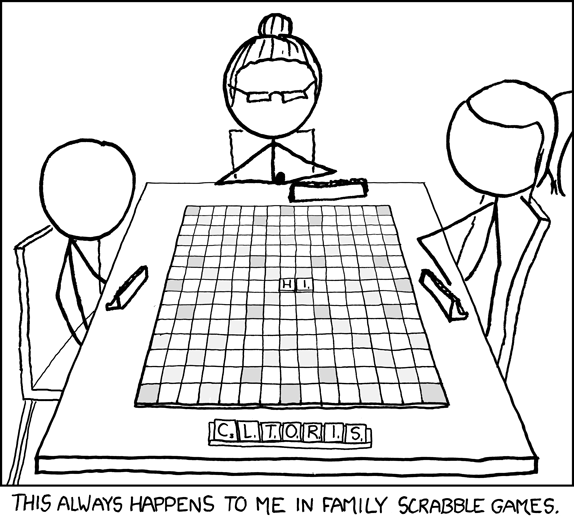 I have a kind of biased reaction here, because my favorite math teacher in high school told us a story about playing Scrabble with her family that was basically identical to this (the word was "erection" though) so I personally felt a sense of "oh I've seen this before" when I read this comic but obviously no one else would feel that way (unless you were in my class). But hey, I laughed at the story my teacher told so I assume that had I not heard it I would have laughed here.
And at least he got the scrabble board details right, unlike SOME people I know, ahem, Mr. Douglas "the scrabble board I talk about is 13 by 13 squares" Adams!
that's right I called you out, Adams!


I was amused to see how the Spanish-translation of xkcd
worked on this one - see for yourself.
It sees the need to change "hi" to "si" so there's a short word with an "i" but I guess there's no good way to get an eight letter word that will upset your family without changing the whole comic. Brings to mind interesting ideas about translating words vs. ideas.



update:

A commenter writes, "
The Spanish word for "clitoris" is "clitoris", so there's no need to find a different eight-letter word.
" This proves, once again, that I am an idiot. Sorry gang. Still interesting to think about what they would do if spanish didn't have the word "clitoris"! right? maybe?

But moving on....


Finally, the Mr. Hat we know and love has returned, if only for a short while. He's got all his usual characteristics - nerdiness, meanness, and a willingness to do far too much work in order to get clever revenge. Hopefully we never hear about his
terrible romance
ever again.
That said - I can't say I like the way this comic was presented. Mr. Hat's scheme is funny, but why have him just telling it afterwards? Why not show him at his computer messing with the trolls himself? Just seems like Randall kind of crippled the humor potential by just showing the post-prank discussion.
Still, this whole week has had well above average comics - perhaps there is a glimmer of hope after all! I wonder how many good comics in a row it would take to convince me I've done my job and my mission was completed.