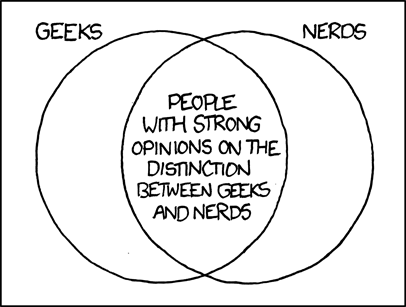 I think chart comics generate a weird little subset of controversy in the webcomic world. Some people think they are great, a way to express a funny idea in an amusing, specific way. Others think they are lazy, allowing an artist to get away with drawing nothing but points, bars, or circles. My own opinion is that there is nothing wrong with charts as a comic medium, but that they are too often a crutch for writers who can't think of anything better to make jokes about.
There is, on the internet, a strain of thought that glorifies the Nerd. It is the mindset, if I may generalize horribly, that loves
John Hodgman
, loves arguing about operating systems, spends most waking hours on Reddit, spends most of their income at ThinkGeek.com, and most importantly, loves announcing their nerdiness to the world. Nerdy is the new cool, to some people. Now, the one thing one might expect from this neo-nerddom that is not actually true is that they are really
nerds.
They like to think they're smart - and many are - but more important than
being
smart is
pretending
to be smart, acting like you love nerdy jokes and nerdy references. It's about the culture, not anything that culture originally stood for.
Of course, a central tenet of this blog is that swirling at the center of this faux-nerdery is the comic xkcd: it's perfect for people who want to say they read a nerdy comic but don't actually want to read jokes that require anything more than a passing knowledge of high school science and the more popular of the 4chan memes. Like many groups, the fake-nerds feel a compulsion to define themselves, in order to make themselves more confident that they are in a special group while Certain Others are not in it (this is why some xkcd apologists feel so strongly that if someone doesn't like xkcd, they must not actually be a nerd, ie, they are "not in the target audience").
The point of all this meandering is that if there is one way to pander to "nerds," it's to reassure them that yes, they are nerds, and tell them exactly where you think the boundaries lie. As comic, it isn't very funny. Let's do a quick experiment: Compare the comic above with the sentence: "The only people who care about the distinction between 'geeks' and 'nerds' are those who are both." I think it says exactly what the comic says, though it's presented entirely verbally and not visually. Is it funny? I don't think so. But you can find out for yourself: Ask a friend who has not read the comic if they think that sentence is funny. Does changing it to a graph make it any better? I'd say no. I'd love to hear reason why I'm wrong, though, but I basically think that this is a statement of a banal fact and nothing more.
It's also odd that the comic itself presents one definition of geeks/nerds, and the alt-text an entirely contradictory one (it says that nerds are a subset of geeks, ie, all nerds are geeks but not all geeks are nerds).
that is all.
================
Did anyone else think that Scott Kurtz came off as kind of an asshole in
the most recent Penny Arcade TV
? I don't read PVP so perhaps I am not in the best place to judge, but he mostly just seemed annoying and somewhat self-important, like pvp is one of the most important webcomics there is.
Guys: probably you heard this already, but
Kate Beaton
got a cartoon published in the New Yorker! You can see it
here
. Of course, the New Yorker is a different medium from webcomics, but still, to get published there is quite a big deal and could be a major point in her career, not to mention it could influence some other webcomic artists as well. What do you guys think of it?