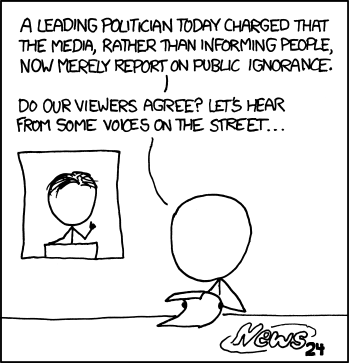 We already knew that Randall loathed the media. Just a few weeks ago he was complaining about coverage of the recent
Gulf oil spill
, and last year he complained so ineptly about coverage of some now-forgotten Wall Street scandal that I was forced to get
very angry
.
On the flip side, we've also been subjected to reminders that Randall is hep to the new media: he's dropped references to
slashdot
, the
Daily Show
, and, in one epic namedrop of a comic,
BBC, BoingBoing, Reddit and Five Thirty Eight
. As far as I know, he has never referred to any element of the MSM in a positive light (if i'm wrong, let me know, i'll post a correction).
update: being a stupid person, I missed that he also included cnn.com in that list of websites he reads. Not particularly positive, but given the same context as the others he mentions. So, I'd say I was basically wrong
.
That's fine, he can have opinions, and it's not like hating the media is all that unusual. But, like any political (broadly defined) cause, complaining too often tends to get
annoying.
I also find that in many cases, people who are very committed to a cause like this tend to have
terrible
senses of humor about this sort of thing (or occasionally they will have great senses of humor, but rarely in the middle). Alas, this comic seems to be a case of substituting an argument for a joke.
The character in this comic is pretty much the definition of a straw man: He represents the group that Randall doesn't like, and rather than quote them, he makes up a quote that is silly in the most obvious but perfect way. Yes, he's satirizing what he thinks is a common phenomenon, but he's doing it by just making the people involved act like they have the intelligence of wood.
Compare this to another, hypothetical comedy outlet, a daily show, if you will. On this daily show, a host would play video clips of members of the media saying silly things, perhaps contradictory ones. The difference between this comic and the daily show is that the daily show plays (ahem, would theoretically play)
actual clips.
As in, not putting words in anyone's mouths. That's what makes it funny - anyone can
pretend
that a person said something dumb. What's far better is seeing that person
actually
say it.
This is true for the first half of the comic as well: Unless "a leading politician" actually said what this comic claims he said, the whole thing is really just a manufactured story. Again, if he is referring to something specific, I will admit that I'm wrong, but the incredible vagueness of "a leading politician" makes me think otherwise.
Now, many of you might say, "man, he's making fun of a
common thing,
so he's making up an example but it could have easily been any number of actual examples." To which I say: Well, why not use an actual example? It will be funnier by virtue of being true, and it won't smack of "angry man making up a quote" the way this comic does.
And Last, the alt text's comparison is actually not that bad, if you live in a universe where the people on the Titanic were screaming with delight.