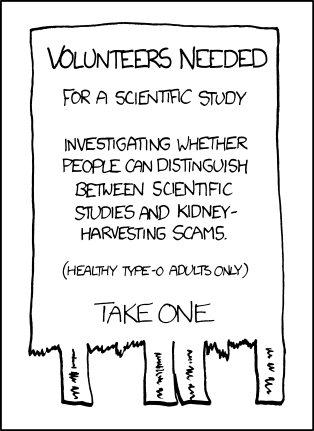 A simple post for a simple comic. I actually liked the alt-text more than the comic - while not perfect, it gets closer to what I'd call the ideal version of this joke, namely, a study that tricks people into some kind of humorous physical harm.
Why do I like the alt-text version more? For one thing, the comic joke makes the trick far too obvious - especially given the repetition of the phrase "scientific study." You look at it, you immediately know what is going on, and so of
course
any even mildly intelligent person seeing this on a bulletin board would as well. In the alt-text joke, you (probably) didn't get it. I know I had to look up what "urushiol" was (and that fact does push the joke a little too far into the "obscure" category), but that's why it works - you can imagine a reader of this flier completely falling for it.
An added bonus is that the reader of the alt-text poster will get tricked simply by taking a slip of paper; he doesn't have to go into the experiment at all. SUCKS TO BE HIM, ha ha ha, he has poison ivy or something.
So, in that case, my recommendation for this comic would be to replace the text of the comic with the text from the alt-text, and have some not-obvious way of cluing the comic's reader (but not the flier's reader) what urushiol is. Perhaps something about how "Finding out the name for poison ivy's irritant has really improved my pranks" or "If people knew that urushiol was poison ivy, I suspect my fliers wouldn't have so many takers." These are both pretty awkward I know (though well within xkcd precedent) but you get the idea.
here's an unequivocally nice thing I have to say about xkcd: I just found the link in Randall's About page to
a firefox add-on
that stops alt-text displays from disappearing too soon. As a frequent reader of webcomics, this feature is extremely useful, and I'm glad xkcd linked to it. Try it out (first it told me it wouldn't work with my version of firefox but it does, so whatever).
The next comic will be #750 - Randall doesn't have a habit of commemorating milestones like this, but he
does
have a habit of having particularly bland - at best - comics on these occasions. (see:
500
,
550
,
600
,
700
.)