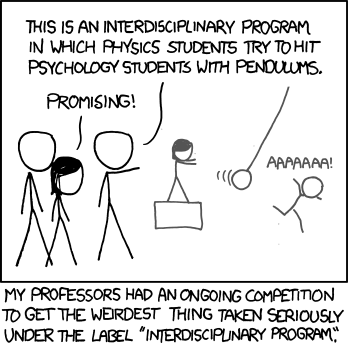 Is the notion of an interdisciplinary course of study such a crazy thing? Or are we really to believe that all ways of studying the world can be divided into some man-made categories like "physics" or "history"? I mean, I think "interdisciplinary" would cover things like
neuroeconomics
, which combines neurobiology and economics. It doesn't diminish either one, in fact, I'd say most people would agree that it enhances both. So why is the idea of an "interdisciplinary program" considered something to deride?
I don't know the answer to that, and that's why I haven't been making fun of the concept recently. But I
do
suspect that it's related to an obsession with keeping one's chosen area of study "pure" and untainted by the methods and theories of any others. It's the same mindset that produces comics like
this
, or
this
, or
this
(or, for a non-xkcd example,
this Abstruse Goose
, which seems almost willfully ignorant of what political science actually is). Now, if this comic had the psychologists attacking the physicists with large objects, I might think otherwise. But as it is, it fits into this pattern of comics where xkcd not only makes fun of non-math-physics-computer-science fields, but seems to actively hate them and wish them harm (the alt-text especially plays into this).
Anyway, that's mainly what bothers me with this comic. It's also true that the whole concept ("in this class, we try to hit each other!") is pretty dumb, and so far removed from reality that it stops being funny and just starts being confusing. The caption, saying that this is part of an even broader context of crazy classes mocking the "interdisciplinary" idea, and - I don't know. I just stare at the screen and wonder why this was made.