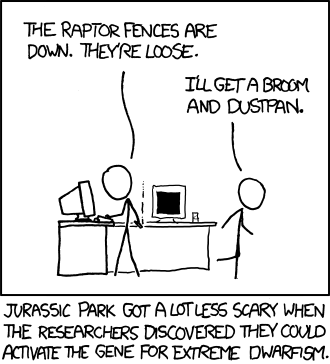 I think we all remember the Raptor scenes from Jurassic Park. I found them scarier than the T Rex scene, perhaps most people did. But as a lot of people are pointing out about this comic, raptors are actually already really small. Here's an
illustration
from wikipedia showing that they are perhaps the size of a medium-sized dog. So really, what this comic is doing is just making Jurassic Park
accurate,
and if you didn't know that it wasn't accurate before, then come on, what the hell did you think.
the raptor thing used to be
funny
, now it's just so laborious. Does Randall think anything he says about Raptors will be funny, because ha ha, "raptors!"
what's crazy is, this isn't even the first joke about
jurassic park and genetically altering someone's DNA to better fit your needs
.
But let's talk about something else. xkcd makes a point, fairly often, of getting mad at people who don't understand science, or choose to forgo the extra work needed to understand it. You see this in comics that
lecture people on how numbers work
, or the people who want to sensationalize
the Gulf Coast oil spill
, or make fun of
twitterers who don't know how Swine Flu works
, or mock
a president's misstatement from five decades ago
. All very nice and superior. And then he comes in with this comic that's all like "Just turn on the gene for dwarfism!" like that's a thing you can do! Come on, man! "Activate the gene for extreme dwarfism" is as bad as those movies where people demand that blurry photos be enhanced (or my favorite, "uncropped").
Now some silly people will probably say that the point of this comic is that such a thing is overly simplistic, and Randall isn't endorsing the idea. But I think that's wrong - I think Randall just doesn't care. The point of this comic is to recontextualize Jurassic Park in a way where a previously terrifying idea - raptors on the loose! - is shifted to a minor annoyance - ugh, stupid raptors are out again... . To say that the joke is that you can't do that is to undermine everything actually written in the comic. Clearly, there are only some types of science that Randall has any respect for.