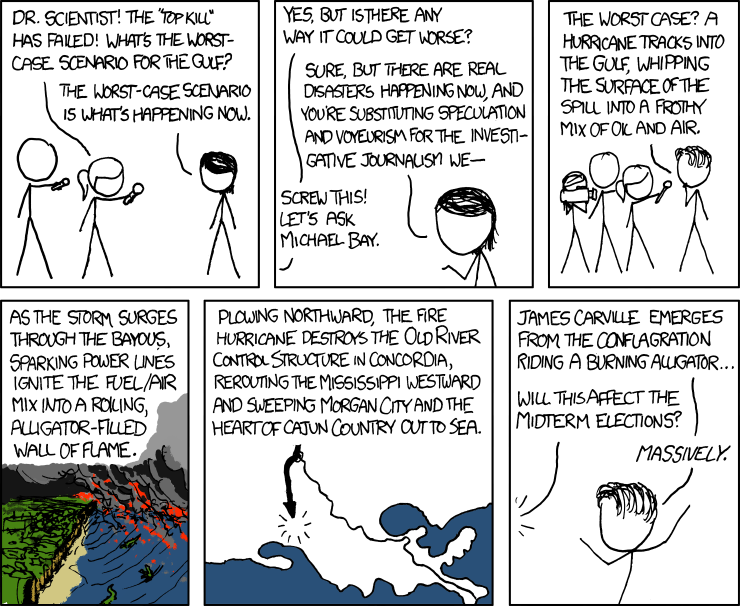 A lot of people have been saying they think this is an above average comic. I try to listen carefully when on-the-fence or mildly-anti-xkcd folks say a comic is good, because I know I will always see xkcd through the lens of running a blog called xkcd sucks. Basically, I know I can make mistakes because of my own biases, and I try to look for signs that I'm being unfair on a certain comic.
But in this case it's not enough. I just think people are being wrong, and I dislike it. I'll admit though, that that's because it plays into some of my own personal pet peeves from xkcd, and not the more general, more objective stuff.
The main one is his terrific
hatred,
his utter
loathing
, of the mainstream media. This is, of course, common on the internet, especially among people
known to love reddit
.
[actually, i have to make a quick interlude on the subject of the reddit store on xkcd: i fucking
love
that "ladies of reddit" and i shall tell you why it is the best thing ever: 1, it is quite literally portraying women as merely attractive things to be looked at, nothing more, and this comes from the King of Womyn-Defense and Master of the White Knight, 2, they are still selling a 2010 calendar in June 2010, 3, the description says there are still 11 months left in 2010 so you should buy it, meaning the description is four months out of date, 4, they say that the money is going to charities chosen by the women in the calendar BUT ALSO that 100% of the money is going to haiti, which is great but it doesn't make mathematical sense, 5, they say they lowered the price because they were giving money to Haiti (that doesn't make sense, "we are giving the money to charity but don't worry, we also are going to make sure we
make
less money") when really it's just because they didn't sell and it's already June, 6, the 17 photos of the calendar are full of repeats, 7, i am pretty sure one of the ladies isn't a lady. Not the guy looking at the calendar, one of the actual subjects. THAT IS ALL RESUME REGULAR BLOGGING NOW]
OK, we were talking about reddit or something? And the media? OH YES randall loves to talk about how he hates the msm. The worst example of this is from the comic about
bailouts/AIG benefits
that made me perhaps angrier than any other comics he's ever made. The driving idea behind more these comics is "media people suck at their job and i know better than all of them." It's actually not a terrible sentiment, the problem is that when you make a comic like this (or write a reddit comment about it...) you will generally come off like a dick. As today's comic does, if you ask me. Particularly panel 2, where Randall has his straw-correspondent shout down the Scientist Hero and her (her!) reasonable logic. The correspondent yells "crew this!" to a scientist?? How much more badly could he have portrayed them?
[update: In response to some comments, I'm going to explain a little more here: I'm not trying to say that the MSM is beyond reproach. The issue is that this comic is making them seem way, way, worse in this case than they actually are. The comic is trying to parody blockbuster director
James Cameron's involvement
in the oil cleanup process, but it's a really disingenuous parody, because his involvement wasn't the media's fault. read the article I linked to there - he offered to help because he actually has a lot of experience dealing with tons of underwater robots (thanks to Titanic). So it's weird to think of the director of Avatar as being useful here, but a) it's true anyway, and b) Cameron was the one who started it, not the media. They may be doing things badly but turning to hapless directors for sensationalism is not one of them]
Then he gets to his second Theme That Bothers Me, the mocking of big budget action movies. Most clearly stated in
this comic
, which even uses the very same director. It's not like there's only one joke to make on the subject, but at the same time, xkcd didn't exactly explore all the possibilities here. The plot is creative, yes, I can grant that. But does that alone make it funny? I'm not sure. The story doesn't get comic emphasis (it's not the punchline) and is only funny in a sort of incidental, "hey he will exaggerate it in some crazy way" way. way way way.
Lastly, the comic does another thing that maybe pisses off me and me alone: the not-so-subtle subtle political name drop. Randall pretends that he keeps his "interest" in politics out of his comic (it's not true, as any number of examples can demonstrate) but then includes these irritating little reminders of just how closely he follows politics. There was the
fivethirtyeight.com
namedrop, the
Ben Bernanke
one, and that
inauguration one
, and now, James Carville. Each one makes me want to say "congratulations on knowing about that random thing, and for telling us you know all about it." It may not bother you, that's ok. It bothers me though.
I guess I haven't really talked much about the general substance of this comic. As far as it goes, the structure is ok, there are some inventive ideas, and at least a little effort at art and color. But I can't get around the little problems. If you can, I won't disagree with you. let us see what the next comic has in store!