today i bring you
HateBottles
. i think you and hatebottles would be good friends.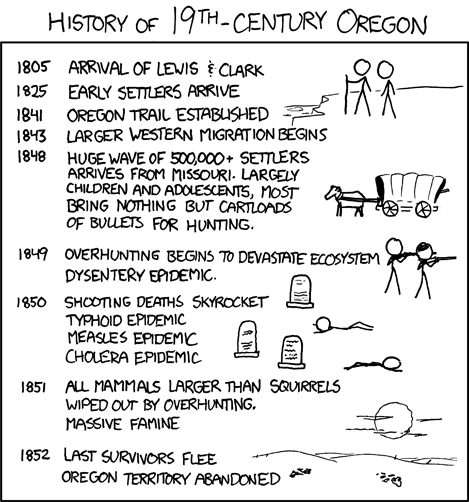 Hi, everyone. HateBottles here (anyone remember me from the three days I posted in the comments?). I signed up to give this review because I felt I'd be a little left of center, trying to find the good in the comic and give some kind of insight into how today's XKCD is better than it seems, yet still in need of a keen critical eye.
That said, when I read today's comic, I seriously considered abandoning my post.
Then I thought about it some more, and you know what, I DO have something constructive to say. But I have to start off with something I'm sure everyone here has heard before: Where's the joke?
It's easy enough to get the reference. Oregon Trail. It's obvious from a quick scan; there's the word "Oregon", there's a covered wagon, boom. Reference spotted. But the joke could really be two things:
A) In the past, life was really like this, and isn't it funny how the game was accurate?
B) Someone who only knew of the Oregon Trail from its videogame might think this is all accurate.
I think the answer is... it's supposed to be both? At the same time? It's not really clear, though. We have an inaccurate timeline that relies entirely on a videogame reference. That's it.
Now, I told you I'd find something good in this comic. Let me take a brief tangent for a moment and talk about how something funny is created. Comic strips, stand-up acts, films, quirky music... any kind of funny things. There are two very, very (very) broadly-defined steps. In fact, let me work backwards from Step 2.
Step 2: Execute on the situation in a funny way.
Randall has failed us here, folks. He has given us a timeline, sterile and inert. A few stick figures, a whole lotta words, and virtually no action.
So what's Step 1, then?
Step 1: Come up with a funny situation.
This is what really grinds my... biscuits. Yes, Randall has played with the differences between humans and machines in the amount of exactly one shit-ton, sure. That would be fine if he cared more about the universe he was creating, rather than letting it rest on a silly joke.
See, I actually think the scenario is awesome. In the hands of a more experienced artist, this could have been a period piece, set in the 1800's, where the characters act like people shittily playing Oregon Trail, the game. It could be awesome. It could be a poignant look at how people interact when social structures (and basically all of reality) aren't really issues. It could be fun, interesting, witty, and really sharp.
Instead, Randall Munroe has given us a timeline, landing on his front page with a barely audible "fuck it".
Maybe I'm getting a bit bent out of shape over what is essentially one man's random doodles. He's never been one to really flesh out a full universe, only the little gags that pepper them along the way. But something like this really makes me wish for more. He has an interesting idea, one that few people would have ever considered expressing. And he totally drops the ball in the expression.
Does he know he's actually clever? That sometimes, his ideas are witty? It looks like he came up with the Oregon Trail joke, realized it had nothing to do with XKCD as a whole, felt bad about himself, and covered the whole thing up with a safe, easy timeline. It's basically a chart, and XKCD has a lot of charts, right? Meanwhile, the clever idea is lost in the folds, begging the reader to dig it out.
People on this blog like to say Randall should convert his comic to a semi-regular picto-blog, and I like to agree with them; however, I would like to propose a corollary: He needs an editor, a co-writer, or whatever you want to call a second god-damned person for him to use as a sounding board. It's like his own comic about an Audio Preview for YouTube; does he even realize his jokes don't come out right? Maybe if he had to pitch them to someone first, he'd hear the magic words, "I think a timeline would be really lame, actually. Why not inhabit their world through the characters, instead?"
Or, "I don't think you need this panel. It's basically dead weight."
I genuinely hope he finds someone close to him who'll keep him honest. And heaven knows he's not listening to us, we're just his detractors, sitting over here... detracting. But he needs someone, bad. I don't think he wants to be the kind of guy that settles for less, and dammit, he's too smart to be that guy anyway.
HateBottles out. Peace be with you, and stay the fuck away from
nails
.