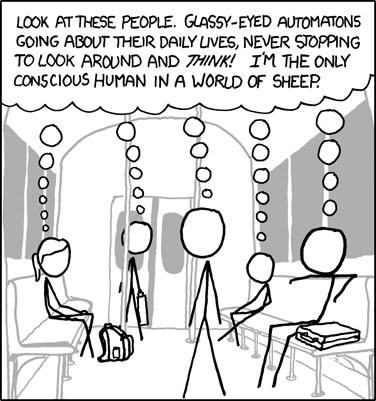 SO, as you know, Dr. Horrible has been guest posting here. But then a funny thing happened. Apparently, he decided he would send Randall Munroe some thoughts on xkcd, and ended up chatting with him on IRC, and then Randy made him feel so bad about this blog that he decided he couldn't keep posting on it. So that's....weird.
He did have something he wanted to share with you though, which was his proof that I am not Randall! Can you believe it? Finally! See what happened was that he was IMing both of us at the same time. And then to prove that we weren't just the same person switching between computers or accounts or something, I just started typing numbers in increasing order, just so he knew I couldn't be typing anything else at the time. Anyway, he took a screenshot of both of our conversations, here it is:
FINAL PROOF
. Hope that's good enough for you, you skeptical bitches.
Dr. Horrible did also send me his IRC chat log with Randy, but I don't really want to post it. Eventually I will (so don't let me forget I have it) but not right now.
-----------------------------
OH HEY WHAT there's a new comic! I guess as long as I am here I should talk about it.
For some reason this comic seems to give off major Ron Paul vibes. Well, I guess I know the reason, it's that all the people have that same awful condescending way of thinking and existing. Of course, this comic is making fun of that, I suppose, so that's good. It still makes me feel irritated the way anyone who talks about "sheeple" does.
I guess the problem is that they are all just sitting on a subway (speaking of which -
recognize it
?). That's not the place I usually think of this sort of thinking happening. I tend to sit on subways and think about the other people there as being actual people with actual lives. Sure, they might be just sitting there doing nothing for a while but that's because they are on a freaking subway, what they hell are they supposed to do? Start shouting "9/11 was an inside job" right on the train?
So what I'm saying is, this comic would be better if there was there was this idea that that's what people on trains were thinking, and then this would be a clever comment on that. I suppose that you could say "well, he just chose a train because it's a simple example of everyday life" but I think it's a pretty bad one, because again, there's not much to do if you are alone on a train but sit there, and perhaps read or listen to music or something.
The alt-text does, however, help a lot.
This comic is better than some. That's good to see.
-------------------
And, with Dr. Horrible retiring after one post, who else wants to write for this blog? Anyone? I just assume people are super sick of hearing me all the time. It's super easy to do and it's pretty hard to fuck up Send me an e-mail -
czwheeler@gmail.com
.