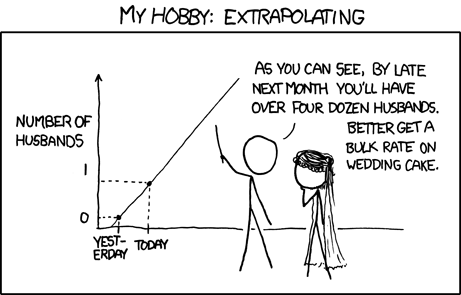 This comic didn't anger me so much as sadden me. It's just "oh hey here is some mistakes you can deliberately make with math." As though people don't know how damn easy it is to lie with statistics. What's he trying to prove? Are we supposed to laugh at the man for being wrong? Are we supposed to laugh at the idea, knowing the man doesn't really believe it? Are we supposed to laugh at how terrible this marriage is going to turn out? Or how she is all dressed up and he isn't?
The old "My Hobby" comics were some of the best comics he did (particularly
37
and
236
, if you ask me, which you do). But this one (and
that other one
) is awful. Randall in essence has two "brands" with his comic, two concepts which have predetermined implications and associations for his readers: Mr. Hat, and "My Hobby." As far as I know, those are the only recurring ideas of this nature in xkcd, concepts that can be places in all sorts of contexts and all sorts of jokes and make a degree of sense (no matter how often he tries to make Mr. Beret a recurring character, he hasn't given him any amount of consistency yet, so we can't count him).
Anyway the point is, like xkcd itself, fans of the comic expect good things when they see "My Hobby" and Mr. Hat (assuming they are still fans, they probably do, that is. If you are like me, you have lost all faith. But Randy doesn't draw for me). They are things he can rely on to make fans a certain comic that they might not otherwise, if the joke had been presented differently. See for example
this dude
. And I think that's what Randy is taking advantage of, perhaps not consciously: Covering up a crappy comic by putting it in a popular series. Think "New Coke." This is all meant more as observation than criticism.
Continuing with using this rather bland comic as a springboard for more general xkcd discussion, let's talk about math.
Someone e-mailed me with a link to
this forum post
, demonstrating just how simple the math here is. Especially when the 9th grade author of the post corrects Randall's graph. I'm not meaning to criticize the fact that it's simple (so you can delete your "You complain when it's too hard and when it's too easy, you dumb fuck!" e-mails) but it did get me thinking:
Does it seem like the math in xkcd is getting easier? At the beginning we had
Poisson distributions
and
Fourier transforms
. Even after it graduated from Randall's Notebook Drawings, we still got complicated stuff like
this equation
,
Karnaugh maps
, and the
Bellman-Ford equation
. And the
Reimann-Zeta function
.
What have we had recently? There was 602, but that was more of a "generic math" thing - it could be replaced with anything and work just as well.
Fibonacci numbers
,
statistics 101
-it's just simpler now. Do people agree with this, or am I being crazy? And is it crazy to think that maybe it's because he is selling out and wants to appeal to more and more people, and jokes about Karnaugh maps are not going to do that? MAYBE!
Again, not saying this is bad, or that he should do something else - just saying that it seems like he is selling out his original niche for a more commercially popular one.
Lastly, when looking through archives for old math comics I came across this, and it made me so sad: