First off, everyone be sure to check out this blog's Exciting New Project, at XKCD: Could Be Better! that is where we are re-writing xkcd comics to be much, much funnier. check it out, e-mail me with any suggestions or comments or stuff.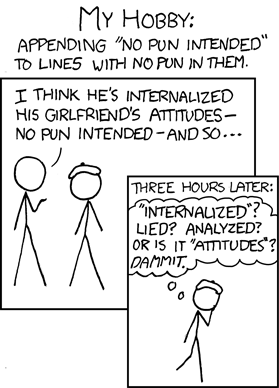 Now - about this comic - Commenter Dan got real mad about this comic and e-mailed me about it! Dan is the wonderful human being who started the "xkcd sucks sucks" blog which is lovely. This post is on that blog too but he asked me to post it here and so here we are. DAN, everyone! My own thoughts are at the end.

-------------------------------


It must be said that if trolling was the intention of this latest comic, then CONSIDER ME MOTHERFUCKING TROLL'D, RANDY, YOU FUCK.
In a suitably Carl-esque style, I want to relish ripping this one apart, piece by piece.
THE ART:
Well, well, well. As commentor luckykaa mentioned in the previous post: "Hell, why even bother drawing it? At best this is a twitter comment." and I could not agree more. The art is pretty unecessary, and it seems that Randall seems to think so too - just look at that 2nd panel.
Beret guy looks more like he's holding his head on than facepalming.
This, however, is what we've come to expect from Randall now, I won't carry on battering the drawings, because Carl does that
plenty
himself.
Overall message:
Randall is often made fun of in this blog for attempting to seem all "high and mighty", as it were, and until now, I've believed him to be innocent of this misdeed, but it seems clear to me now that his ego has gone too far this time. Frequent commentor poore noted the fact that the second panel is
completely unecessary
.
Unecessary as it may be, it shows us that Randall is now a fully-fledged wanker. I shall explain:
He EXPECTS people to be baffled hours later by his incorrect usage of "no pun intended" rather than just fleetingly bemused.
I mean, come on, if Beret guy was any average guy, after three hours, a nonsensical usage of "no pun intended" after a few impressive-sounding words would have faded entirely from memory. Randall seems to be having an "aren't I so clever!!" moment here, and not realizing that normal people have lives, and girlfriends and shit like that.
The Alt-Text:
FUCKING RAAAAAAAAAAAAGE.
OH GOD I RAGED.
IT IS NOT SPELLED DAMMIT.
IT IS A CONTRACTION OF "DAMN" AND "IT".
THEREFORE - DAMNIT.
RANDALL I HATE YOU SO MUCH.
Yes, this whole post is really just a build up to that rage about the alt-text.
So shoot me.
--------------------------------
My own thoughts: The first thing I thought of was "The Producers" because this exact same thing happens there - a character (the director of 'Springtime for Hitler') adds "forgive the pun..." to one of his early lines, prompting confusion in the characters who hear it. Thomas pointed me to the far funnier pun-based screed from Maddox at the Best Page In The Universe. Also, the alt-text is stupid and not related to the comic; no one would actually care that much about a stupid pun, to all you forumites who are ending your posts with 'no pun intended!' or "I'm totally going to do this now...NO PUN INTENDED!!" you are all huge douches, and lastly, like all 'My Hobby' comics, you could change it to "My Hobby: Being Annoying" and it would not be very different.)