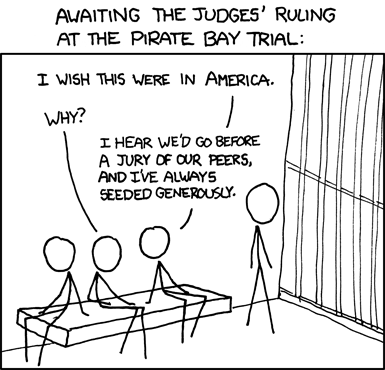 Oh hello there! Have you heard of this new comic 'XKCD?' I have not read through the archives but it appears to be kind of not very good! Like this one from just today, for instance! It is about how the Pirate Bay people are being tried, and how the Swedish legal system doesn't have a jury, and because hey! these guys are Swedish! there is a hilarious misunderstanding because it's a jury of his peers! OH MAN, did you know peers is a term used in torrenting? And guys, the Pirate Bay people run a TORRENT WEBSITE.
Okay, so seriously. Normally I'm a big fan of puns. This just doesn't do it for me. A good pun is natural. It flows. It plays on words in a clever way. It should come from a natural conversation. This seems forced. First: the Pirate Bay people would never be wishing that the trial was happening in America, because they are actually breaking American laws. Second: I don't think anyone, ever, has been sitting in a jail cell (which--hey, they haven't been convicted yet, why are they in a jail cell?) and said to someone else "man, I sure wish this was in some other country." I mean, that's just not a natural setup for a joke. The setup to a pun is important, Randall. Make an effort.
Apparently Randall looked up the Swedish legal system on Wikipedia and read they don't have juries there, and thought he'd show off his newfound knowledge with his loyal fans. It's like using the word flautist. Yes, it's technically correct, but mostly it's a useful word if you want to show off that you know things.
So, before I go, a shout out to the Cuddlefish who posted here a long time ago complaining that we here at xkcd sucks ignore the alt text, which is the punchline, and ignoring the alt text means we are not getting the joke. I am writing this next part just for him:
this alt text is really incredibly dumb and i hate it
Anyway yeah, congratulations on perfecting your distillation methods for mediocrity, Randall!