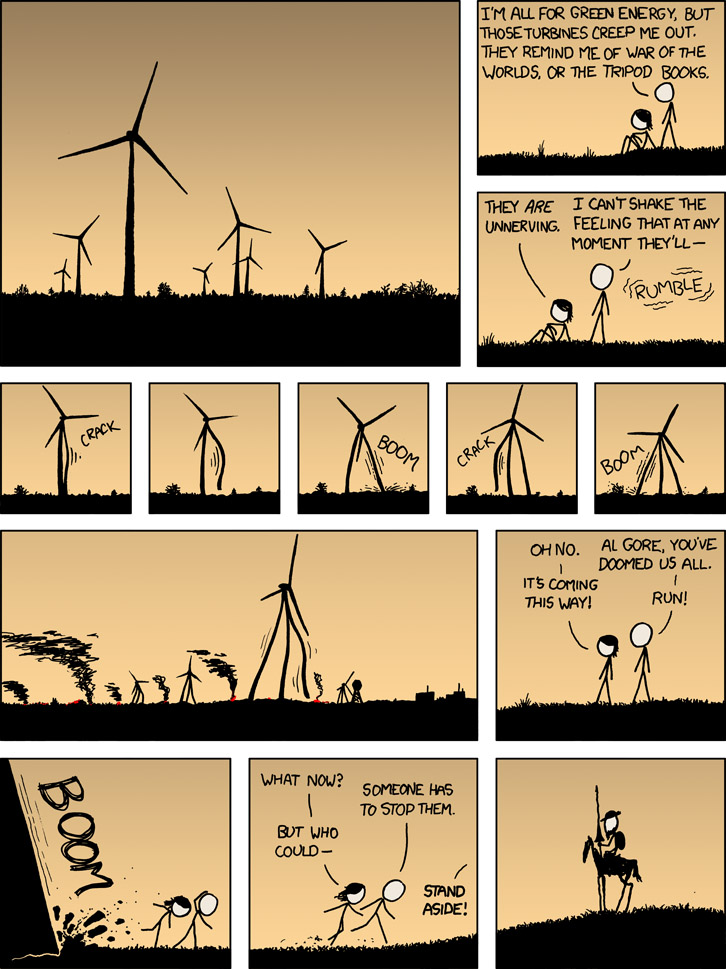 So after my
solicitation for guest posts
I received exactly one e-mail with some commentary on the comic in question. But it was damn good so I don't mind. I didn't particularly like this comic, woo hoo big surprise there, but lots of usual haters did, so I guess it must be better than usual. In my opinion, the situation ("argggg killer windmills!") is a bizarre enough set-up that the punchline (hey, Don Quixote could
totally fight killer windmills!
) isn't funny. The situation would have to be a bit more realistic. For me, anyway. Oh and the Al Gore line is
terrible.
But enough of my lame old opinions, let's see what instant blog celebrity
arremmdee

has to say.
You'll remember
arremmdee from the terrible horrible wonderful livejournal snark-off debate that will feel familiar to all those who are sympathetic to the causes of this blog.
The e-mail, sort of at the author's request, has been edited for length.
--------------------------
I have followed xkcd for a really long while and while almost all of the recent ones for the past few years I've easily been able to recognize where the humor is at least *supposed* to come from, Alternative Energy Revolution didn't even seem to have an actual punchline to it. So I checked the LiveJournal feed hoping to see some more 'huh, what?'s. Instead, post after post was an endless flood of 'best xkcd ever', which genuinely just confused me, and I posted asking what exactly the appeal of the comic was to these people. Ignoring the usual useless responses anyone gets whenever they question the infallible stylings of Randall Munroe, and a mindless argument with someone who thought they were in high school debate class (xkcd certainly has found its target audience), it ended up being nothing more than "there are more references to this comic, so that makes it even funnier."

At what point do any of these references actually become funny is what I don't get. By the same logic, if Randall drew the xkcd guy that wears a hat saying 'Battlestar Galactica, Doctor Who, Cory Doctorow, and the Large Hadron Collider' it'd apparently be the best webcomic of all time. (If he said this while holding a girl's hand I'm sure some of the readers would run into the streets shouting with joy, but that's another matter.)

I'm not going to be entirely against AER though since that would be bashing xkcd solely for the sake of bashing xkcd-- if this were done by any other webcomic artist, I would probably have no problem with it. But another webcomic artist would probably drop the throwaway Al Gore namedrop, and the webcomic would probably be one like Buttercup Festival where the point of the comic is far more often atmosphere than humor. If Randall thinks he can suddenly achieve some higher level of artistic atmosphere with a stick figure webcomic by throwing in some sepia, he's really overestimating the abilities of Photoshop's Gradient Fill tool.

AER starts off with a guy and a girl staring at some wind turbines. Guy alleges that wind turbines are creepy, and then makes two references to sci-fi books. I honestly can't imagine anyone finding turbines creepy, and it honestly just seems forced so that these two sci-fi references can be shoved in (War of the Worlds continuing on and becoming the point of the alt text.) Following this reference, the wind turbines that exist in the Wonderfully Whimsical World of Randall Munroe and His Stick Figure Friends, as if having just heard these references, come alive and start attacking the city.

"Al Gore, you've doomed us all!" probably could've been the last line of this comic. Then there would've been a punchline. A really bad one, but people would laugh and say it's a wonderful xkcd. I'd be annoyed, but I'd get where the supposed humor is supposed to be coming from.

Anyways, I guess the 'punchline' for this xkcd is that Don Quixote (in the style of a sketch done by Picasso) shows up.

Props for Randall being clever enough to reference the Picasso sketch, since it only works with his stick figure webcomic, but what actually makes this funny?

Don Quixote has showed up. Alright. Cool. Am I supposed to laugh now?

I have been on the internet since 2001 or so. I have never seen anyone say anything about Don Quixote, but all of a sudden xkcd is praising their longtime hero. Kind of like when everyone suddenly thought Chuck Norris was so awesome, or any other 80s TV hero suddenly became the biggest in-joke amongst 15 year olds far too young to remember what they were pretending to laud. I don't see any more coming out of this. It's little more than a bunch of -- and I really should be careful because there's hardly that much differentiating me from these people -- socially awkward geeks high fiving themselves for catching a reference.


Full disclosure is that I have never read Don Quixote and I only recognized it at all because of a TV series for children that introduced kids to classic literature (Wishbone, I'm sure most people saw it at some point in their life if they grew up in North America), but if I remember it right, Don Quixote wasn't even all that competent at fighting the windmills, and he didn't even think he *was* fighting windmills. Right there are two potentials for jokes ("oh, wow. we're doomed." / 'i will defeat the giants!' "what giants?"; something like that) but AER ends with nothing more than Don Quixote appearing. And it's everyone's favorite xkcd. If Randall put a print of it in his store he'd make a killing.

As angry as this makes me, I don't actually see anything in this xkcd that I couldn't have done myself. I can do stick figures. I can do some Photoshop gradients. I can make just as many references in 12 panels as Randall did. Really, how hard could it be to make xkce.com? I could make a killing.
-------------
excellent points, all.
arremmdee, please do stick around and join the loving family that we have here. And to the rest of you: where are

your

dissertations on this comic? where are they

ps: the fact that this comic is currently listed on the wikipedia page for Don Quixote makes me literally - and i use that word literally - sick.



update:

Ha, I totally forgot that a very wise man already took it upon himself to make fun of just copying other characters and their stories and calling it your own.