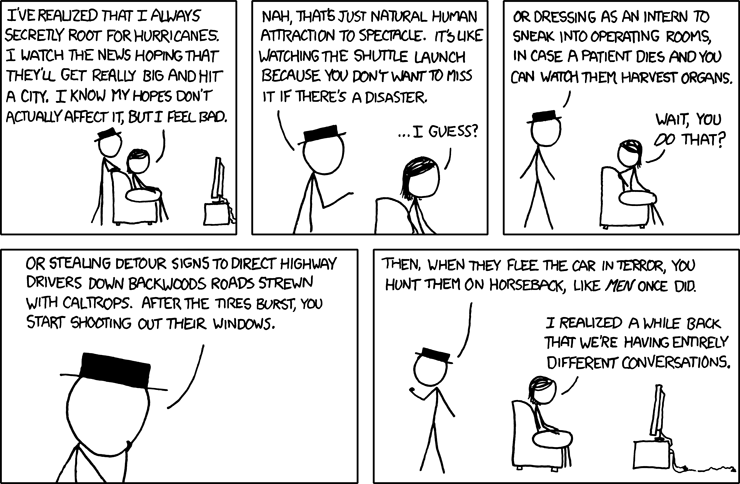 I'm going to be honest. I read this comic and thought, "Really, this isn't so bad. I almost like it, a little." Upon more thought, I can't quite justify this - all sorts of little problems show up - but still, let the record show that I was, for some reason, positive about this comic. What can I say - maybe I'm a sucker for that sort of humor-through-exaggeration, the way each example Mr. Hat gives is an order of magnitude more complex and fucked up than the last.
Not that there aren't problems; for one thing, this "disaster voyeurism" as a concept is not so new as Randall may believe; Neil e-mails me to point out that George Carlin (one of the most popular stand-ups of the last few decades, of course) had a super similar concept in his 2005 "Life is Worth Losing" TV special.
Read it yourself
; go down to the last really long paragraph (or just ctr+f and look for "fire"). I don't think Randall deliberately copied it, of course, I just want to point out that it's not such a clever or new idea. Obviously, Carlin does much better things with it.
Then of course there's Randy's textbook "but wait, there's MORE" continuing to add dialog after the punchline. In this case it's that pesky "entirely different conversations" line. Why? Why does it exist? What does it add? You have Mr. Hat going off on crazy rants about hunting men on horseback and you have to end your comic with "WELL, GUESS HE'S JUST HAVING HIS OWN CONVERSATION, HUH" and it just brings down the level of the humor so much.
A little while ago I remember writing that Mr. Hat was basically a
terrorist
, and that seems to still be true in full force. What happened to him being just a classy asshole? Whatever, I can't be too picky I guess.
I've said before that I hate it when Mr. Hat stories just vaguely reference funny things he has done without showing us or telling us what they were; so I am glad that at least here Randall had to use a modicum of creativity and tell us what WACKY antics Mr. Hat was up to.
==========================
Many thanks to Mal (mal from xkcdsucks) for pointing this next part out in the comments last time:
Apparently there's this webcomic called "Sheldon" ? I dunno, I had never heard of it. But in any case, a comic from a few days ago bore a striking similarity to a certain xkcd from a few months ago. See the relevant
Sheldon
and the
xkcd
yourself. Now this phenomenon is nothing new to readers of xkcd sucks -
ahem
,
cough
,
ahem
- but what comes next makes the story different. The author of Sheldon, in a
blog post
,
acknowledged that his comic was really similar to the xkcd,
similar enough that it was reasonable to be suspicious. Read that post. How classy is that?
I wish Randall would do something like that when he copied jokes. If he did, I would not hold anything against him. I believe - usually - that the mistake was wholly unintentional. But when Randall refuses to admit that his comic is so damn close to say, an SMBC from the week earlier, he just looks like a dick. I hope he sees that post on Sheldon and sees how damn classy the author looks when he writes it.
===========================
stay tuned later tonight for an announcement about crazy upcoming guest posts.